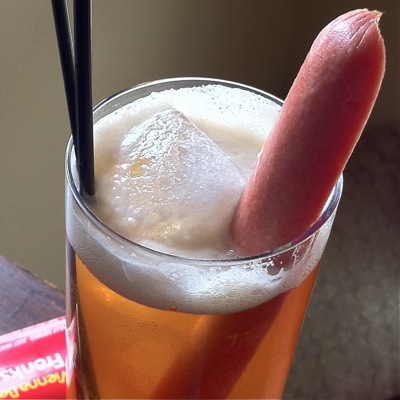 Nothing quite captures the excitement of spring like the opening of baseball season. Few things are more American. It's right up there with a couple of other cultural favorites such as ballpark hot dogs and beer. Yet, how often do we get a chance to celebrate all of these things at once? With spring fever in the air and the boys of summer returning for another season, we picked this special day to share a recipe that features ingredients we all know and love. Of course, the cocktail we are referring to is the Frank Collins.
We've covered the classic Collins recipe before, and although it follows the same basic framework, the Frank Collins takes it in a new direction. Rather than placing the focus on the balance of sweet and sour, we add a big dose of Americana with a little curveball whimsy and an emphasis on savory, umami flavors. It all starts with delicious, all-beef hot dogs which can be found in most supermarkets. Those of us who love a great frankfurter recognize that there is more than one way to prepare them. Some like them grilled while others prefer the speed of the microwave. Most hot dogs can even be consumed cold, right out of the package. But for our purposes, we need to follow a more traditional methodology—a bullpen warm-up—that involves boiling some water.
Prepare Frank Consommé
Add several cups of water to a medium pot. To increase the beef flavor, drop in a beef bouillon cube. The bouillon is optional, but the MSG it contains will maximize the overall flavor. Bring it to a boil and add your franks (don't take shortcuts here—you should be using the best wieners you can find). Allow the hot dogs to cook to your preferred temperature and color. It may be enough to simply turn off the heat at this point and allow them to cook while the water cools. You will need to set aside at least one of the hot dogs for a garnish, but what we are really after is the rich, flavorful water. Don't discard the liquid!
We like to refer to the boiling liquid as hot dog soup or frank consommé. If you are using a decent wiener brand, the liquid should be a little hazy and may contain a few drops of rendered fat swirling on the surface. This flavorful juice makes a perfect broth for lunch and can be frozen for years if need be. It can also be used as a stock or starter for other recipes (frank risotto anyone? Mmm!). Allow it to cool completely and set aside a few ounces for cocktails.
Frank Collins
1.5 oz gin (or any spirit you have)
1.5 oz frank consommé
3 dashes Worcestershire sauce
2 oz beer to top
hot dog spear (for garnish)

Add all but the beer to a shaker with ice, shake to chill and strain into a Collins glass over fresh ice. Top with beer and garnish with a hot dog spear that has been cooked or not. It doesn't matter.

Note: To make the frank consommé, cook several hot dogs in boiling water. Reserve the water.
Once you have the hot dog broth, assembling the cocktail is pretty easy. Yes, this is a gin cocktail, but it does not taste like gin. Go ahead and use whatever gin you have—or if you are fresh out of gin (a minor mixology emergency, but not as bad as running out of ice), you can use vodka. It doesn't really matter. It's more about the spirit of flavor than the flavor of the spirit for this drink. Combine the gin with the hot dog soup and add a few dashes of Worcestershire sauce. We know, it sounds unusual, but we are using the Worcestershire here to help bring out the meaty flavors of our consommé much in the same way you might use cocktail bitters in other drinks. Add ice to your shaker and shake to chill. Strain it over fresh ice in a Collins glass and top it with your favorite beer. Finally, cut a hot dog into a nice spear and slip it into the glass for an attractive garnish.
This is one of those rare instances when you get to use beer in a cocktail. Beer, hot dogs, baseball season—only a fool would fail to recognize this winning combination! Beer provides the effervescence and takes the place of club soda in a traditional Collins. A standard American lager is fine, but we prefer Summit Extra Pale Ale because of the name. You should seek out ingredients with catchy names or fancy bottles. They are often the best. A lot of effort and expense goes into marketing, and all of that work should be rewarded. Look for brands that advertise during baseball games to be completely authentic. The flavors in the bottle are secondary.
The Frank Collins has several interesting variations worth exploring. For example, if you enjoy chili dogs, don't be afraid to add a few dashes of Tabasco. Soy sauce can work in lieu of Worcestershire, and why not toss some ketchup and mustard into your shaker? The condiments are totally up to you, so even a muddled pickle or some relish works, provided you double-strain. It's hard to go wrong here. In fact, this drink is just as good with the hot dog, pickle, and even a bun all ground up in a blender. Heck, if you are making a frozen version, you might as well toss in some cheese, onions and some baked beans. You may need a bigger straw to accommodate the chunks, but it's worth it. Cheers to you on this happy day! Enjoy one during a game or as a substitute for dinner and you'll definitely want to follow it with the fantastic Pepto Bismopolitan!