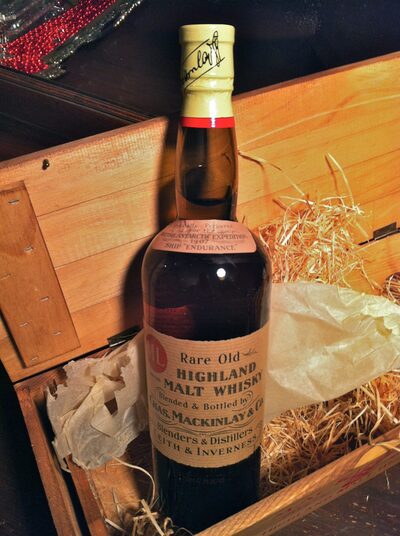 It's that time of the year again when we choose a bottle to add to our collection of Scotch whisky. Over the years we have pulled together a small selection of single malts—a process that continues to work well for us. We don't drink a lot of Scotch throughout the year so bottles tend to last a long time. Rather than stocking a cabinet all at once, this technique allows us to be more selective as we slowly build an inventory without feeling the expense all at once.
In past years we have often tried to add bottles from distilleries familar to us by choosing a special bottling or a distiller's reserve, but this time our apporoach was influenced by a series of events that we first read about in the New York Times. An article published back in July chronicled the story about how three cases of Chas. Mackinlay's Rare Old Highland Malt were discovered hidden in a century-old hut at the bottom of the world.
You may have heard the story too, and we won't go into too much detail (you can read the Times article, or watch the video below). The short version is this: Antarctic explorer Ernest Shackleton and his team launched an expedition to reach the south pole in 1907. Among his supplies were 25 cases of whisky. Having erected a small hut upon reaching the southern continent (a structure that still stands today) the explorers headed for the pole. Shackleton's journey fell short of the goal and they were forced to return, sick and malnourished.
For a hundred years, the structure has stood as a monument to the failed expedition. Then, In 2007, three cases of whisky were discovered hidden underneath the hut by workers trying to restore the landmark. Frozen and preserved in the permafrost, these bottles represent a very rare find. By 2010 they were finally on their way to a lab in New Zealand for analysis, and eventually, a few bottles were returned to Whyte & Mackay, the current owners of the Mackinlay label.
With so little to go around and so much interest, careful analysis and expert blending has led to a limited production replica whisky, researched and constructed to be the perfect copy of the flavors enjoyed by Shackleton and his men over a century ago. They have also taken this novelty a step further by packaging it in identical fashion right down to the wooden crate, hand-lettered labels, seedy bottle and straw packing. You even get an authentic cork stopper in a burlap bag. The whole package is unique. How could we pass this up for our holiday Scotch selection?
The original Shackleton bottles are apparently 5-year single malt, but to re-create it took a blend of single malts ranging from 8 to 30 years. But how does it taste? It's light and elegant with a crisp floral aroma and fruit flavors like apples and peaches. It is usually described as also having elements of sherry wood, cinnamon, toffee, and only light peat. That apparently surprised many of the experts who expected to find robust smoky peat in a Scotch so old, but here that flavor is mild. Actually, this is about as much peat as we like in a Scotch, although we do keep an ounce of Laphroaig next to our bitters to rinse glasses for special cocktails. Although we tend toward bottles that avoid the peat, we do understand its complex appeal for some people and don't mind it here. This is one we will drink over the long haul, pulling it out for guests and special occasions.