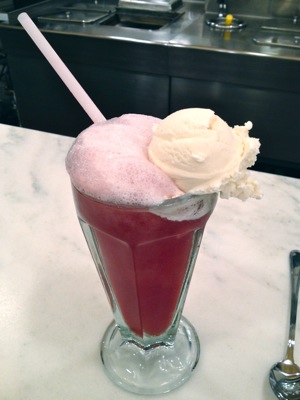 This week we are featuring a drink you probably cannot make at home. It requires a visit to Lynden's Soda Fountain located in St. Paul, Minnesota. It's not like us to feature a Drink of the Week without posting a recipe, so we will obviously tell you what's in the Derham Dollie, but we are so excited about the opening of Lynden's that we simply had to share the details with everyone. It's not every day that an ice cream soda shop opens in your neighborhood!
Lynden's Soda Fountain is located at 490 Hamline Avenue just south of Randolph. If you are familiar with the area you will recognize that they are in the space right next door to The Nook restaurant across from Cretin-Derham Hall. And what a space it is! The moment you step into Lynden's it's like being transported back in time. The long, gleaming white marble is accented with black woodwork and white subway tile. Schoolhouse lighting reminds you of childhood and the hand-painted signage gives clues to the authenticity of what's going on behind the counter.
And then you see it—the fountain itself, a beautifully restored antique. The glorious stainless steel with built-in trap-door compartments and perfectly calibrated syrup pumps stand at the ready next to the fountain heads.
Sure, anyone with a button bar dispenser gun can serve up fizzy water, but an authentic soda fountain is capable of generating superfine pressurized jets with tiny bubbles or just a coarse stream, depending on what is required for the drink. Under the control of an experienced soda jerk our order can be filled. The Derham Dollie is a float of premium vanilla ice cream over a glass of hibiscus soda. The sodas are mixed on the spot using all-natural syrups from Brooklyn, NY. Our hibiscus float is simple, delicious, and kid-friendly. This isn't a cocktail bar—these drinks are non-alcoholic and make a perfect dessert or refreshment for any member of the family.
Quality soda drinks and premium ice cream may seem like the feature here, but in addition to sundaes, cones, malts and floats, you can also order an egg cream, or phosphates that contain real acid phosphate, a sour component that almost became extinct. If you are a coffee lover, Lynden's serves some of the best, featuring Dogwood Coffee from a small, quality-focused roaster out of Minneapolis.
Just when you thought you might never find another Slo Poke or a roll of Necco Wafers, Lynden's saves the day with their selection of vintage candy and brands that complete the overall look and feel of the place. Turkish Taffy or Cracker Jack anyone?
Lynden's Soda Fountain is planning to open their doors for business this Sunday, April 15th. Head on over and try something you've never had before. Let the friendly staff introduce you to an egg cream which doesn't contain eggs or cream but rather fizzy milk and chocolate! Obviously, we also recommend the Derham Dollie, but with so mary delicious possibilities, you'll have to keep going back to try them all. Did we mention the root beer is good too?
UPDATE: Lynden's is now serving John Pemberton's Original Coca Cola recipe (after a little consulting with Summit Sips), so if you've always wanted to try homemade cola but decided it's too much work to make at home, head down to Lynden's in St. Paul and try the 1886 recipe!