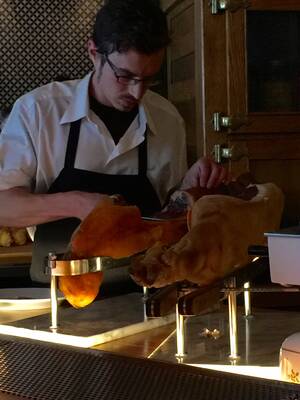 We visited Hamlet, a small but unique spot in the Pearl District of NW Portland during their opening week (note: Hamlet has since closed). Apparently a project to complement the success of Oven and Shaker located just around the corner, Hamlet is another great place to eat from the imaginations of chef Cathy Whims, Ryan Magarian and Kurt Huffman. If Oven and Shaker is any indication, this place could do very well.
Two things stand out about Hamlet: ham and sherry.
Featuring several different service options that include amazing, hand-sliced jamón ibérico as well as domestic, acorn-fed varieties, you basically start with your cured meat selection and add accompaniments. We ordered the best ham they serve along with a baguette & butter. Ham service like this is not something we have seen anywhere else, so this alone is worth checking out. The cocktails are also delicious. There is a focus on sherry drinks which is fine by us. They are designed to pair nicely with the ham. Seems like a good idea!
References: