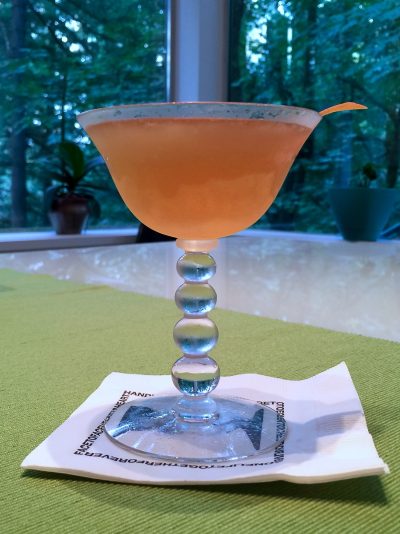 Grab your grapefruit for this one—but all you will need is the peel. If you don't have a grapefruit for cutting the garnish—shame on you, you will have to use lemon—but you should know that the grapefruit peel in this cocktail does add an aromatic nuance that is definitely worth the effort. We are referring to the Kojo, a contemporary drink that we recently enjoyed at Hamlet, a fun little restaurant in the Pearl District of Portland, Oregon. It's a sherry cocktail selected to pair with the Spanish jamón they serve, but the drink itself was created by Washington DC's Derek Brown. We recently featured Brown's Getaway cocktail, so it was a happy coincidence to find another one of his creations at a local hot spot.
The recipe splits the base evenly between Oloroso sherry and gin, then balances lemon juice with falernum and a bit of simple syrup, finishing it off with some bitters and a healthy twist of grapefruit peel. It's a great combination of flavors and aromas, and you don't have to be eating amazing cured pig leg to enjoy it.
Kojo by Derek Brown
1 oz Oloroso sherry
1 oz gin
.5 oz lemon juice
.5 oz falernum
.25 oz simple syrup
1 dash of Angostura bitters

Stir with ice, then strain into a chilled cocktail glass. Garnish with a healthy twist of grapefruit, expressing the oils over the glass.
Brown's original recipe calls for Green Hat Gin and The Bitter Truth's Decanter bitters. At Hamlet, they opt for Gordon's Dry gin, so you could probably use just about any London dry you have. We were very satisfied using G'Vine Floraison, a smooth but vibrantly floral gin made from grape distillate in France. It's perfect for this drink. We also substituted Angostura for the bitters. The sherry is Oloroso, and this is important. It is a dry sherry that imparts a unique nutty character. Oloroso is often the base for other sherry varieties such as sweetened cream sherry. It is barrel aged, often for many years, and because it loses it's protective flor yeast layer, it oxidizes in the barrel becoming darker and richer. We typically have a bottle of Oloroso in the refrigerator to make the fantastic Night of the Hunter cocktail for guests who like salted caramel, so here's one more reason to keep sherry around.
The complexity of this drink is wonderful. When made with the proper garnish, you get aromas of grapefruit, lemon tartness along with nutty sherry, and a lingering ginger and clove from the falernum and bitters. If you lined up all of the ingredients in falernum with the botanicals in the gin plus everything it takes to make aromatic bitters, it would look pretty intense on paper, but it works in the glass. It is complex but refreshing. Hamlet adds a bit more simple syrup to theirs, but that isn't necessary. You can taste yours and adjust accordingly, but a quarter ounce of 1:1 simple syrup seems perfect to our taste. They also serve their Kojo on the rocks, but we decided to feature it up as Derek Brown intended. It was just as delicious on the rocks, so it's obviously a versatile drink that we highly recommend. The ingredients aren't so obscure that you can't assemble them easily. Falernum used to be hard to find, but you can make your own. Otherwise, head down to Hamlet, or if you know your favorite craft cocktail bar has Oloroso sherry, they should be able to pull this off on a quiet evening.