If we made more cocktails using Mezcal we would be routinely buying more bottles and wouldn't always feel so protective about using it. And yet, many of the drinks we have written about call for using relatively small portions, sometimes augmenting a tequila base in order to lend a bit of smokiness to the flavor profile. Here, we are focusing on mezcal for the base, relying on other flavors to tame this wild spirit.
As mules go, there is practically one for every base spirit, so naturally, for anyone exploring this formula, it is only a matter of time before you work your way through the cabinet to agave spirits. We did feature Victor Bergeron's excellent El Diablo cocktail many years go, so it's not like we haven't visited this neighborhood before, but mezcal is different enough that it feels like like we are charting new ground.
The Mezcal Mule is basically a Moscow Mule but with mezcal as the base instead of vodka. You may have had something similar once or twice in restaurants—we used to order them at the now closed High Noon restaurant in downtown Portland. Here, however, we are taking a slightly different approach by adding passion fruit!
Mezcal Mule
1.5 oz mezcal
1 oz lime juice
1 oz passion fruit syrup
.5 oz ginger syrup
1 oz sparkling water

Add ingredients to shaker with ice and shake to chill. Strain over fresh ice into a chilled rocks glass (or copper mug). Garnish with a lime wedge.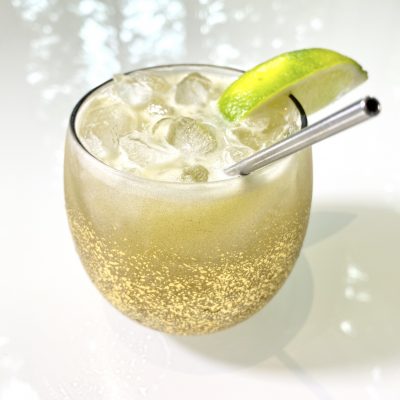 Options and Variations
This mule is actually a riff on a popular version created by Jim Meehan of PDT. The original uses muddled cucumber, agave nectar and passion fruit purée. We shortcut the passion fruit and agave nectar by subbing our homemade passion fruit syrup (or you could use store bought) and we skipped the cucumber altogether. Could we have tossed in some cucumber slices and come closer to Jim's version? Sure. Should we have? Probably, but this simplified version is pretty damned delicious.
This drink stands up well against its Russia-inspired counterpart. The mezcal definitely adds a heavy measure of smoke to the experience, but this seems appropriate with a spicy ginger syrup. The passion fruit cradles the lime in a way that gives it a more sophisticated tartness that seems to take some of the edge off of the ginger. We can see how muddled cucumber could play a supporting role and regret not muddling a few slices. You could certainly make your version better than ours.
Speaking of riffs on our riff, could you skip the passion fruit syrup? Of course. Can you use bottled ginger beer instead of ginger syrup and sparkling water? Yes you can. In fact, you can always just follow the buck/mule formula and build this over ice in a copper mug by throwing in your base spirit, squeeze of lime, and topping up with ginger beer. You can even sub some tequila and stretch your mezcal a bit without compromising much flavor. You wanna skip the copper mug too? Ok, fine. We did.
Flexibility is the name of the game with these drinks. It still blows us away how nicely ginger seems to pair with every base spirit. In many ways, it is a universal mixer which is why we are so passionate about making fresh ginger syrup—it takes up less room, lasts a long time, and you can make as much or as little ginger beer when needed using sparkling water which can also be used for other things.