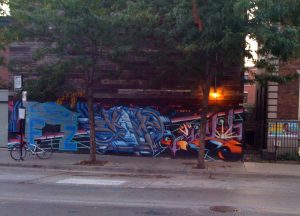 Normally, it might not make sense to review a bar so far out of the Twin Cities jurisdiction, but we decided to make an exception for The Violet Hour. This place is so unique it's worth describing, especially since it's not completely unrealistic to consider Chicago a good weekend getaway with the possibility that someone reading this might add it to their itinerary.
Probably the first thing you notice about The Violet Hour is the fact that its hard to notice—the first floor of this building is decorated in tasteful graffiti that looks more like an unfinished construction site than an exclusive den of mixology. The only indication that you have the right location is the address numbers on the side. Without that, you might actually miss the door which is camouflaged against the painted wall. This "hidden" effect is an homage to the speakeasies of the Prohibition era. Once you do find the door and step inside, you find yourself in a small, undecorated room—more of a hallway, really—with heavy velvet curtains at one end. Here, you will wait to be seated.
Beyond the curtains lies an elegant, large, open lounge with a bar along one side and private seating along the other. The giant room is divided by a huge velvet curtain that also segments the bar into two sections providing more intimate areas for conversation. This is the point, after all. The Violet Hour is about good conversation, good company, and good cocktails. They have rules against standing—all parties must be seated. There are no cell phones allowed. There are no Cosmos, no Red Bull, no Jager-bombs, no Grey Goose. Looking about the room with it's floor-to-ceiling curtains, we were reminded of Twin Peaks. If not for the dark colors and the bar, the zig-zag hardwood had us thinking we were sitting inside the Black Lodge, half expecting a little dancing guy to appear uttering something about Laura Palmer! It would probably take a few more drinks before that happened.
Ahh, the drinks. This is where The Violet Hour really stands out. If you can accept the pretentious atmosphere and get past the idea that you will have to wait for chairs, it's totally worth the effort. Each cocktail has been designed in painstaking detail to carry the selected spirit with perfect balance and elegance. Boasting eight different kinds of ice, drinks vary widely in style and description. The bartenders take great pride creating your selection and sampling it during its construction so that it's perfectly balanced for your approval.
We started with rum. The first drink was the Airmail, which wasn't even on the menu, alongside a Hemingway Daiquiri.
Hemingway Daiquiri
1 1/2 oz light rum
3/4 oz fresh lime juice
1/4 oz fresh grapefruit juice
1/4 oz maraschino liqueur (Luxardo)

Combine ingredients in a shaker, fill with ice, shake vigorously until chilled and strain into a cocktail glass.
We quickly shifted to whiskey with a Zarzamora and a Dogwood Manhattan. This proved to be a smart move. Little did we realize, but we were being served at the bar by the manager, Michael Rubel. Because it was a quieter weekday evening, Michael took a special interest in our selections and decided to inquire about our thoughts on the Manhattan. It happened that their summer menu would soon be shifting toward a fall/winter lineup and all of the bartenders were happily experimenting with various concoctions. Michael's Dogwood Manhattan which is a mix of Woodford Reserve bourbon, Noilly Prat, Amaro Nonino, and house-made peach bitters is designed to tantalize the senses and evoke feelings of strolling among dogwood blossoms. Naturally, he has plans to replace this with a more seasonally-appropriate Manhattan for the colder months.
Thus began our adventure with Manhattan variations and an amazing education about whiskey. Michael described his recent trip to the Buffalo Trace distillery where he witnessed the full process of bourbon production. He also hand-selected a barrel for his own bottling. In order to heighten our appreciation for the cocktails we were tasting, he introduced us to Buffalo Trace White Dog, which is a high-proof whiskey distillation before barrel aging. While sampling the White Dog and comparing the bourbon from his barrel selection, we tasted several variations on the Manhattan he has been working on. Although our appreciation for subtle nuances may not be fully matured, we could definitely detect distinct differences contributed by the whiskey used. It was an incredible opportunity to see the cocktail design process up-close and we hope we provided valuable feedback as he develops new cocktails for autumn.
We didn't even scratch the surface of what is offered at The Violet Hour, but the fact that we were given special attention on a slow night and had the opportunity to test possible additions to the menu made the visit a unique experience. We might have preferred to experiment with other cocktails throughout the evening, but talking to Michael and seeing his passion for spirits and attention to tiny details made us realize that this place is special. In fact, the entire staff appeared dedicated to the art of mixology and could be seen making minor adjustments to their creations—adding a dash of this or a drop of that—before declaring anything ready for consumption.
Returning to the Twin Cities puts The Violet Hour temporarily out of reach, but a return visit is definitely worthwhile. Local bars should take notice. We need more places like this, and as patrons, we should all be seeking this level of quality from our cocktails. If you get a chance to visit Chicago, you will not be sorry you stopped here. Or, if you are looking for inspiration at home, visit the website and glance at the cocktail menu. The ingredients for all of their drinks are listed (though, not the proportions) which can be a good starting place to inspire your own experiments.
The Violet Hour is located at 1520 North Damen Avenue, Chicago, IL