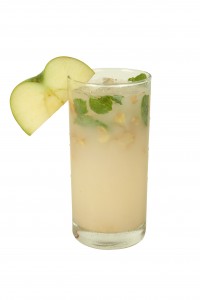 We sometimes like to call New Years Eve, Amateur Night, because we work downtown Minneapolis every day. It's perhaps acceptable to surrender the city on this night-of all nights-to people who might not otherwise be as familiar with one-way streets and tall buildings. Combine celebratory drinking with a crowd not used to driving downtown along icy streets at night and you are bound to create a few problems. Similar issues can arise when you host a party, whether it's Amateur Night or otherwise. One way to avoid a problem is to offer your guests a selection of alcohol-free cocktails. We aren't talking about water (which you should have anyway), soft drinks or juice. We mean actual alcohol-free cocktails that are every bit as fun to make and as tasty to consume as their judgement-impairing counterparts.
Put yourself in the designated driver's seat for a moment and consider how much more enjoyable a cocktail party could be if you had a small selection of mixed beverages to choose from! Imagine the joy of holding a chilled cocktail glass, sipping away with your friends and not feeling left out of discussions about fresh ingredients, balanced flavors and the unusual nuances of unfamiliar recipes. Trust us, guests do appreciate it, especially when they realize that your plans included everyone's best interest.
Creating drinks without alcohol doesn't have to be a challenge if you are mixing with a decent set of ingredients to start out. You will want to have a good selection of citrus, herbs, sparkling water, simple syrup-all things that work well in your spirit-based cocktails too. Some of these we have tried, others we have not. Put a few on your menu for the party and guests will have one more reason to celebrate.
Basil Lime Fizz
1 bunch of basil
1 oz simple syrup
1 oz lime juice
4 oz sparkling water

Add fresh basil, lime juice and simple syrup to a tall serving glass. Heavily muddle the basil to extract the flavor. Add a bit of sparkling water to start mixing the syrup into solution. Fill the glass with ice and fill with sparkling water. Makes a refreshing drink, on the spot. You can also prepare a basil syrup ahead of time by blanching a large batch of leaves in boiling water for 10 seconds, then blending them with sugar, water, lime juice and a pinch of baking soda. Strain this puree through a fine mesh and refrigerate. You want a tart, sweet concentrate that you can use to make drinks later by adding a few tablespoons to an ice-filled glass and topping with sparkling water.
Melon Cucumber Cooler
3 slices cucumber
3 chunks of melon
1 squeeze lime or lemon juice
1 small pinch of salt
5 oz lemon-lime soda

Add the cucumber and melon with a small pinch of salt to a glass and muddle the fruit. Allow to sit a minute or two (time allowing) then add the squeeze of fresh citrus, fill with ice and top with lemon-lime soda (sprite, 7-up). Stir and serve.
San Francisco
1 oz orange juice
1 oz lemon juice
1 oz grapefruit juice
1 oz pineapple juice
1 teaspoon grenadine
1 egg white

Add fresh-sqeezed citrus juices, pineapple juice, grenadine and egg white to a cocktail shaker. Shake very hard first without ice. This "mime" shake, or "dry" shake without ice cubes will start a good emulsion with the egg white protein. Open the shaker and add 5 large ice cubes. Reseal the shaker and shake until your arm is tired and the contents will be nicely chilled! Strain into a wine glass or cocktail coupe making sure to get the last bit of lovely meringue. Garnish with a slice of fresh fruit and add a sipping straw.
Anita
1 oz orange juice
1 oz lemon juice
5 oz club soda
3 dashes Angostura bitters

Put the orange juice and lemon juice into a shaker glass, add three dashes of Angostura bitters, 5 large ice cubes and shake to chill. Strain into an ice-filled collins glass and top with sparkling water or club soda. Garnish with fruit slices.
Whenever we have good, fresh ingredients, we are usually compelled to experiment. You can prepare these recipes easily enough, or take what you have on hand and improvise. Fresh mint is always a good place to start. For example, you could add a bunch of mint to a mixing glass with sugar or simple syrup, gently muddle to extract the flavor, then donate some fresh juice (cranberry, orange, lime-use what you have). Shake with ice and strain into a cocktail glass. Or, pour over ice and top with soda-the options are limited only by your ingredients and your imagination. Be creative and taste your results.
If you make a dud, try something else. You can tweak your recipe with more sweetener, more lime juice-whatever you think it needs. It's really up to you, and you'll feel better knowing that your failed experiments won't be wasting expensive spirits and liqueurs. Strive for a balance of sweet and sour, keeping in mind that using Sprite or 7-up will provide the sugar as well as bubbles for your concoction. Adding a pinch of salt to cucumbers helps bring out their flavor. The muddler is your friend. Use melons, blackberries, pomegranate, ginger, mango, kiwi or any other fresh produce you find-everything is fair game. Grate some nutmeg, add some cinnamon, black pepper or Chinese 5-spice! Just don't be surprised when your alcohol-drinking guests become envious of your delicious creations!