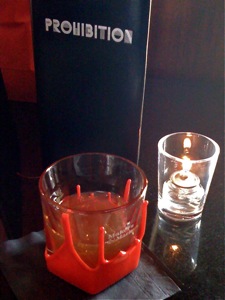 We would hardly call ourselves wine experts, and yet we probably know enough to navigate a decent wine list. More important is getting to the point of knowing the flavors you like so you can ask the right questions and get what you want. It's about having confidence in your ability to narrow the choices as opposed to buying a bottle based on its price. But it doesn't come without experience, and the best way that we know to gain valuable knowledge about wine—or any kind of beverage—is to take the time to taste them.
Last week was a busy one for tasting whiskey in the Twin Cities. A few weeks ago, the world saw the release of Maker's 46, the new bourbon whiskey by Maker's Mark. As the bottles were arriving at the local shops, we got word of a Maker's 46 release party being held at Prohibition, that bar up at the top of the Foshay Tower in Minneapolis. For anyone wondering how to find out about these events, we'll let you in on a little secret: become a Maker's Mark Ambassador!
Practically every distillery or spirit maker has a membership program. Enrolling is usually free online, and in exchange for your name and email address, you get all kinds of perks. In the case of Maker's Mark, Ambassadors receive advance notice of things like the release of 46, or an invitation to a tasting party at Prohibition. We also get our name embossed on a metal plaque that makes its way onto your own barrel of whiskey. We've actually seen the barrels aging in the rickhouses in Loretto—this is no joke! When your barrel is opened, they email you and you have the opportunity to buy bottles from it.
Similarly, many Scotch makers have memberships and benefits for those who sign up. It can be a little overwhelming if you start signing up for every promotional program you can find, and we have only done a few. With all of the spam email flying around, it pains us a little to add a few more to the marketing madness. However, finding out about programs like the one held at Prohibition last week makes it worth it.
On Thursday, the day after the Maker's 46 party, the St. Paul Grill held an event featuring rare Scotch whisky. This time, attendance required advanced registration and space was limited. However, if you had received the email a month ago, you would have had plenty of time to sign up. And how do you suppose you get those email messages? By enrolling in The Grill Scotch Club, of course. Club members get a card to keep track of the Scotch they try over time and receive bonuses at certain milestones. It's free to join the club and you can sign up on their website.
The rare Scotch tasting event was something special. We gathered at the St. Paul Grill seated at tables in the back of the restaurant while Brian Dvoret, brand ambassador for The Speyside shared his knowledge about the bottles we were tasting. The menu included nice hors d'oeuvres and of course, Scotch. We compared six different bottles of what was collectively referred to as Scott's Selection Cask Strength Rare Single Malt Whiskies. Robert Scott is the Master Distiller responsible for laying down selections of his favorite barrels from distilleries all over Scotland, and these were some of the results. Of course, tasting whisky this good means you will probably bring a bottle or two home with you.
We look at these events as opportunities to learn. Whether it's rare Scotch at a nice restaurant in St. Paul, or a wine and beer tasting event at your local shop—these are often the best, and least expensive ways to taste a variety of products and to talk to the people who know the most about them. Signing up for clubs like these is a great way to find out about these events. Once you hear of an upcoming tasting, invite a friend or make a date out of it. It can be a lot of fun discussing what you like or dislike with people you know. In addition to finding out your preferences, you further your knowledge about the product in general, and before long, you become a confident expert.