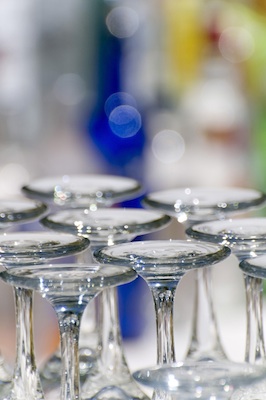 Obsessive (Compulsive?)
We don't have everything on our bottle wish list, but we are a little embarrassed to admit that with all of the spirits, liqueurs, syrups and bitters in the cabinet, we could stock a small bar with a respectable selection. If that weren't enough, we are suckers for unique glassware. We adore vintage coupes, sour glasses, tumblers, copper mugs, silver julep cups, trumpet flutes and so on and so forth. Don't even get us started on wine glasses. The variety can make for some nice photographs and interesting recipes, but it got us thinking that this strange obsession is probably not the norm, not even for those of you that regularly visit Summit Sips.
Less Is More
There is another philosophy exemplified by David Solmonson and his excellent blog, 12 Bottle Bar. Rather than collect every odd liqueur, gin and aged rum on the planet, David embraces practical constraints of space and budget. His high concept is to limit the cabinet to twelve bottles. It's a fascinating idea that has universal appeal-take a peek into most home liquor cabinets and you'll probably find about a dozen bottles.
To a cocktail enthusiast, twelve bottles can feel severely limiting when you need to cover vermouths, whiskies, gin, rum, tequila, bitters, liqueurs and so on. However, a carefully chosen inventory like David's can produce plenty of classics and inspire fantastic exercises of creativity. Check out his blog here. We think he's is really onto something, and if we ever decide to give up our obsessions, we could give this a try.
12 Glassware Cabinet?
So we figured, if David can limit his liquor selection, maybe it's possible to do the same with glassware. What would we buy if we were just starting out? These were questions we were pondering at Target the other day while doing a little holiday shopping. We realized that we only regularly use three types of glasses, so what if a typical retail store could satisfy those needs if limited by cabinet space or budget? Let's stroll down the housewares aisle to find out.
A basic glassware set would have to be versatile, inexpensive and appropriate. We focused on three styles: cocktail, tall/Collins, and lowball/rocks. Virtually every cocktail would be covered, and some glasses could work double or triple duty for water, juice, soda and so on.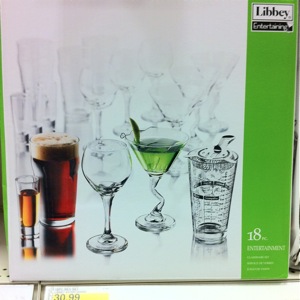 Results
One of the first solutions that caught our eye was the Libbey combination box that seemed to have everything-glasses for wine and beer and even cocktails and shots. It looks like it even comes with a mixing glass and strainer. However, it doesn't really satisfy our minimum criteria for cocktail glassware. Beer glasses are nice, but you could use a more versatile highball, and we aren't looking for beer mugs. The shot glasses are unnecessary, and although we love wine, that wasn't the point of this adventure either. We decided separate purchases would be more appropriate and it probably wouldn't cost any more money to get what you want in the end.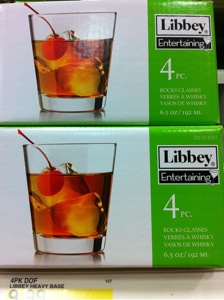 Lowball/Rocks
We started looking at rocks glasses and found a few perfectly serviceable solutions. Again, Libbey makes good options here. For less than ten dollars, we like the four-pack of slightly tapered Heavy Base rocks glasses. At 6.5 ounces, this is the perfect size for an old fashioned, drinks with chunk ice, spheres or cubes. Even crushed ice classics like the Mai Tai work in these. The thick base will keep them from tipping, the tapered contour will prevent them from slipping out of your hand, and the elegant simplicity is exactly what we were hoping to find in a lowball style rocks glass.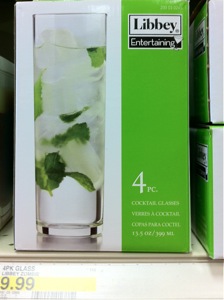 Tall/Collins
With the rocks glasses covered, we looked for a good Collins. Libbey came through again. With more than one style to choose from, we scanned the shelf carefully. You could opt for a highball similar in style to the Heavy Base rocks glasses, but we picked the Libbey Zombie glass. It was at that moment that we noticed the boxes were branded with an "Entertaining" series packaging which might make them easier for you to find. This Libbey line also has a rolled lip that should help protect them from chips. Again, for under ten dollars you can get a four pack. At 13.5 ounces they are definitely tall and slender, even for a Collins, but they meet the need, and with this much volume they can double as dinnerware. So far, so good.
Cocktail "Up"
The final challenge was the cocktail glass. This is for serving drinks up, and unfortunately, the choices were somewhat outdated. Libbey's retail options at Target included two variations. The first, a standard martini v-shaped glass was a whopping 12 ounces-much too big for classic cocktail proportions. They look nice enough, but a glass that big will be hard to fill, and even if you make doubles, by the time you get halfway through a drink the glass will be warm. Send these back to the 1980's please!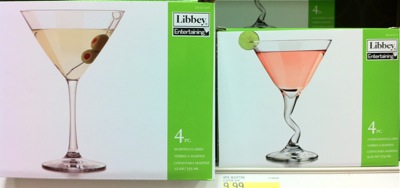 The second choice was the signature z-stem. Again, a v-shaped glass, this too was simply oversized. At a more reasonable 9.25 ounces, we are getting closer to a workable volume, but unfortunately, it would be a mistake to buy these for the same reasons mentioned above. If they were seven ounces we might be tempted, but we'd rather see something under six.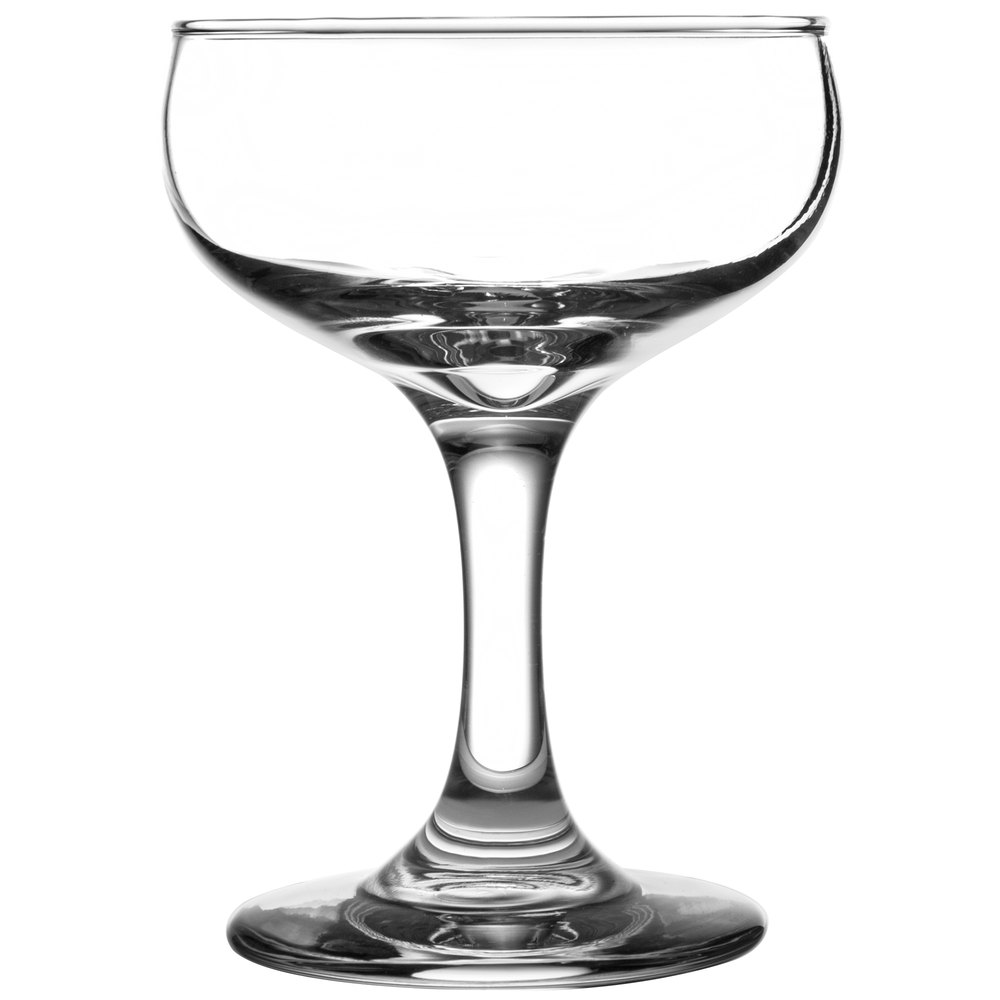 Perfection?
The perfect basic choice, in our opinion, would be Libbey's cocktail coupe (model 3773 Embassy Champagne Glass) at 5.5 ounces. It's the right size, it has a gorgeous shape (nicer than the flatter, 4.5 ounce), and it's the glass being used by many upscale cocktail bars around the country. We occasionally find them and make them available on the Summit Sips Store, but if you want them new, these seem to be only available from restaurant supply stores by the case. We wish Libbey would pick up on the champagne saucer cocktail trend and offer these in retail "Entertaining" packaging of four instead of three dozen. You could enlist a few friends and combine your resources to buy a case. They are definitely worth the effort.
So, while not entirely successful, two important glassware styles are available for a reasonable price, but the third may be hit or miss. If we don't have any used ones, a little searching online and you might be able to find the Libbey 3773 in smaller quantities. But the way we see it, this leaves room for a little indulgence in vintage stemware of which there is a bewildering assortment in the Summit Sips Antique/Vintage Store. It's a way to have it both ways. You can get the basics covered easily at your local retail chain and still enjoy some unique vintage items.
Update, March 2011:
During a recent trip to a Target store here in St. Paul, we still found a decent selection of rocks and highballs, though shelf stock is sometimes hit or miss. What we didn't see was the Zombie glasses. These might be a little harder to locate, so it might help to call ahead. Perhaps a customer service agent can assist with locating stock. We found them listed as item 200-03-0266 on several online wedding registries.