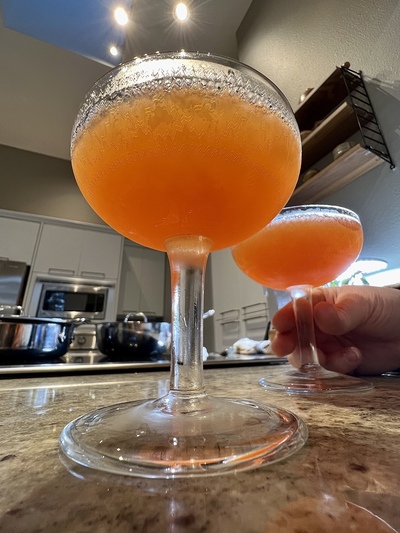 Way back in December of 2010, we wrote about a cocktail to commemorate the Wright brothers first flight at Kitty Hawk. That drink was the Paper Airplane. Back then, we did not have the full story about why it was called that, nor did we fully understand the ingredient switch-a-roo. In the intervening decade, this version has come to outshine the original—or was this the original? Here, we set the story straight and revisit this fantastic drink.
A little bar called The Violet Hour opened in Chicago in 2007. Partner and head mixologist, Toby Maloney had created a New York style speakeasy that would become one of the most important craft cocktail destinations in the midwest. Over the years, The Violet Hour would develop a reputation for seasonal menus and impeccable service to the customer, conversation, and of course, the cocktail. One of Maloney's cohorts from back in New York, Sam Ross, sent him a recipe to put on an upcoming menu. Ross called the drink the Paper Plane, because he was supposedly listening to M.I.A.'s song "Paper Planes" while working on the recipe.
Two things happened next. The first was that the drink did make it onto the menu, but the name was somehow transcribed wrong and was featured as the Paper Airplane. Second, back in New York, Sam Ross had continued to tinker with the drink and found that his initial choice of Campari was perhaps too bitter and did not balance the acid from the lemon as well as he would have liked. Aperol, on the other hand was just right, so he started making the drink that way.
Paper Plane
.75 oz bourbon
.75 oz Aperol
.75 oz Amaro Nonino
.75 oz lemon juice

Shake with ice, then strain into a chilled cocktail coupe.
Of course, Maloney kept the drink as he heard it, and the fact that the New York version had evolved with an ingredient change did not affect its popularity in either part of the country, even by the time we visited The Violet Hour in the fall of 2009. Eventually, cocktail enthusiasts began to recognize the discrepancy and got curious about the backstory given the confusion that comes from two very similar drinks with only slightly different names.
Inspired by a classic that was rediscovered by Murray Stenson of Seattle's Zig Zag Cafe, the Paper Plane and its wingman were developed as a riff on the Last Word. Sam Ross originally subbed Campari, Nonino, bourbon and lemon for all of the ingredients but kept the "equals" proportions for what is a fantastic, herbal, dry and sweet modern classic. Whether you make this with Aperol or Campari, we think they are both incredible drinks that continue to inspire and impress us even more than a decade later.