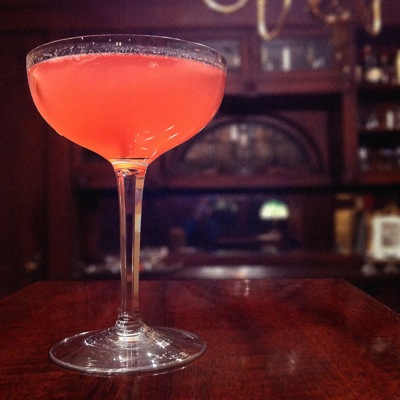 This week, we feature another bitter-sour combination in the Jasmine cocktail. If you enjoyed the Campari Sour a few weeks ago, this drink is similar, although it is more complex and has no egg white. If you thought that drink was simply too bitter, you might really enjoy this drink instead. It's a lot more accessible because the bitterness is no longer taking center stage, giving a little room for the other ingredients to share the spotlight.
There are a few recipes floating around for the Jasmine cocktail. Most align on the ingredients with differences in proportions. We tried several of them and zeroed in on this one because it "evolves" in your mouth. Other cocktail recipes can be more forgiving of quarter-ounce adjustments, but here, tiny changes to the measurements (or inaccurate pouring) will transform the experience dramatically. For one thing, this is more than just a basic sour. Cointreau is a sweet orange liqueur that faces fresh lemon juice, but there's also bitter Campari lurking behind it. We normally like recipes tweaked toward the sour side, but looking at the proportions below, you might think there's too much sweet for so little sour.
Jasmine
1.5 oz gin
1 oz Cointreau
.25 oz Campari
.25 oz lemon juice

Add ingredients to a shaker. Add ice, shake until cold, then strain into a chilled cocktail glass. Garnish with a lemon twist.
The interesting thing about this drink is how the lemon and Campari tend to "gang up" on the sweet Cointreau. When you take your first sip, the sweet orange hits your tongue strong and you suddenly fear you made a mistake. Then, the sugar seems to wash away as if transformed into a wonderful, dry finish. The gin is doing something in the background to make everything dance on your tongue, so a bold London Dry will work nicely. Before you know it, you are already swallowing your second confirmation sip, and well, it's hard to put this drink down. In one version we tested which leaned toward heavier proportions of Campari and lemon juice, we were puckering with every sip. The sour-bitter was overshadowing everything else. We have also seen folks swear by a 3:1:1:1 ratio, but like how this version here tells a story as it leads you through each flavor.