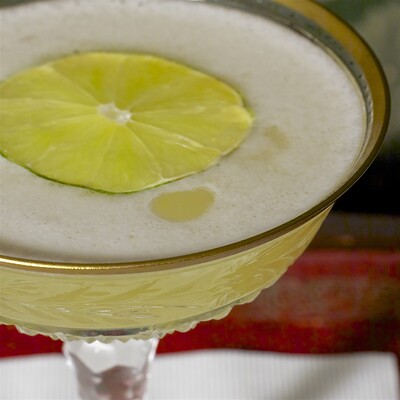 Last weekend, we met some friends at Marvel Bar in Minneapolis where Pip Hanson holds court, overseeing a fantastic collection of classic cocktails and contemporary masterpieces. We had some time to kill before our dinner reservations upstairs at The Bachelor Farmer, so we were able to try several of the featured recipes on the menu. I read recently that on Sundays, Marvel has been hiding their drink menus and entertaining patrons with "server's choice" selections. Basically, you share your likes, dislikes, mood, etc. and the staff will whip up something they think will appeal to you. Don't like it? They'll try again. This being a Saturday, we had menus, but after a couple rounds we had just enough time to order one more cocktail to carry up to our table. Given our previous selections from the menu, our server felt confident she could pick or create unique cocktails to our liking, so we rolled with it.
The Sunday guessing game is working because the drinks we received were perfectly suited to our individual tastes. One of them was the Hotel Nacional Special, a great follow up for someone in our party whose first two rounds included the Oliveto and the Last Word. Letting the staff pick your next round at Marvel Bar is like turning on an iTunes Genius playlist, or launching Pandora internet radio. You name a cocktail you like, and they come back with something similar. It's too bad more things in life don't work that way. In this particular case, the Nacional is a classic recipe that does not appear on their menu, but if you already enjoy the Last Word (who doesn't?) or the Oliveto, this one is right up your alley.
Hotel Nacional Special
2 oz rum
1 oz pineapple juice
.5 oz lime juice
.5 oz simple syrup
.25 oz apricot brandy (liqueur)

Add ingredients to a shaker with ice. Shake to chill and strain into a chilled cocktail glass. Garnish with a lime wheel.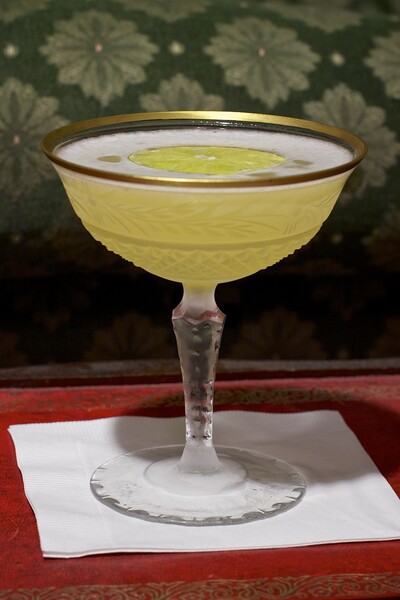 This cocktail is named for the hotel in Havana, Cuba where its creator, Wil P. Taylor was the manager in the 1930s. The recipe appears in the 1935 La Florida Cocktail Book and it has evolved somewhat since then. Some versions today will feature lemon and lime while others drop the pineapple juice opting for pineapple syrup instead. There's ongoing debate over the Apricot Brandy (as with almost any classic featuring that ingredient). For the most part, however, the basic formula is something like a Daiquiri that features pineapple and apricot. The proportions here are transcribed from Jim Meehan's PDT which faithfully represents the drink we enjoyed at Marvel Bar.
It's a winning combination with a layer of complexity beyond a basic Daiquiri. Pure 100% unsweetened pineapple juice carries an acidic bite enlivened by the citrus. No longer a basic sour, the Nacional is balanced with sugar and a little apricot liqueur which gives it even more depth and character. The rum you choose will certainly affect the outcome, but there's no problem using a basic white. As always, you should strive for balance, though we like ours a bit more sour than sweet.
We certainly enjoy finding more uses for apricot brandy, especially when the other ingredients are so easy. This is a great drink for summer and one that is destined to see regular rotation at home. Of course, we cannot guarantee it will appear during your next visit to Marvel Bar, but if you ask for it nicely, I am sure they'll oblige.