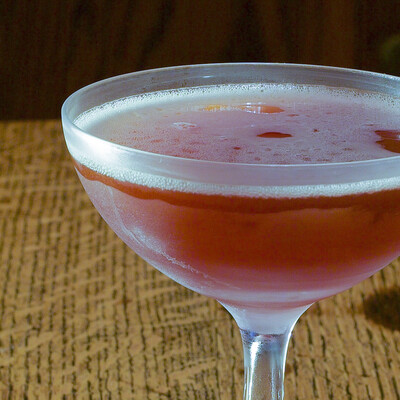 From the title you might expect something wild and exotic, but the Savoy Tango is a very simple cocktail. Boasting only two ingredients, it's also easy to make. But can a drink like this live up to its catchy name? You'll have to taste it yourself to find out, but if you'd like to take our word for it, the answer is yes.
When we first came across this recipe we had to wonder what all of the fuss was about. It appears in Harry Craddock's The Savoy Cocktail Book, so it's been around for a while. It is also noted to have been a popular selection in its day. So, why don't we ever see it on the menu? Our guess is that it has something to do with Sloe Gin.
It isn't the first time the subject has come up. We have covered Sloe Gin before in cocktails like the Sloe Gin Fizz and the Millionare No. 1. If you can't get your hands on Plymouth or another true artisan product, don't even bother. Honestly, unless your sloe gin is made using quality gin as a base, real sloes (blackthorn berries) and sugar, you won't like this cocktail. You need to find the good stuff, whether you make it yourself or know a good source for a decent bottle. Fortunately, Plymouth Sloe Gin is becoming easier to find and it's worth the extra expense.
Savoy Tango
1.5 oz Laird's Bonded Applejack
1.5 oz Plymouth Sloe Gin

Combine ingredients in a shaker with plenty of ice. Shake to chill and strain into a chilled cocktail glass.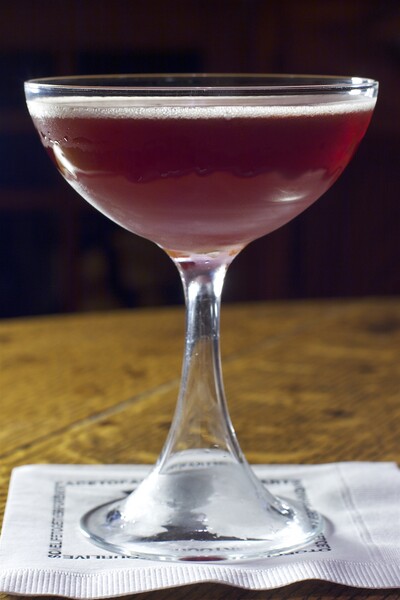 Once you have the sloe gin, you need some good apple brandy. We used Laird's Bonded Applejack. This is the one that isn't cut with neutral grain spirits, but we have read about success with Calvados as well. The point is, with only two ingredients, it makes sense to avoid shortcuts and focus on using quality spirits.
Overall, the flavor of this drink is boozier than expected which we think is a good thing. It's not so spirit driven as a Manhattan—although the apple brandy certainly plays a prominent role here, it's smoother than whiskey. We also have no trouble picking out the fruity nuances of the sloes along with a nice dose of nuttiness that comes from the berry stones. But the sugar doesn't overpower the flavor, keeping this a delicious, full-bodied cocktail that works as well in the summer is it would in cooler months. You could also get away with a dash or two of lemon juice if you were so inclined.