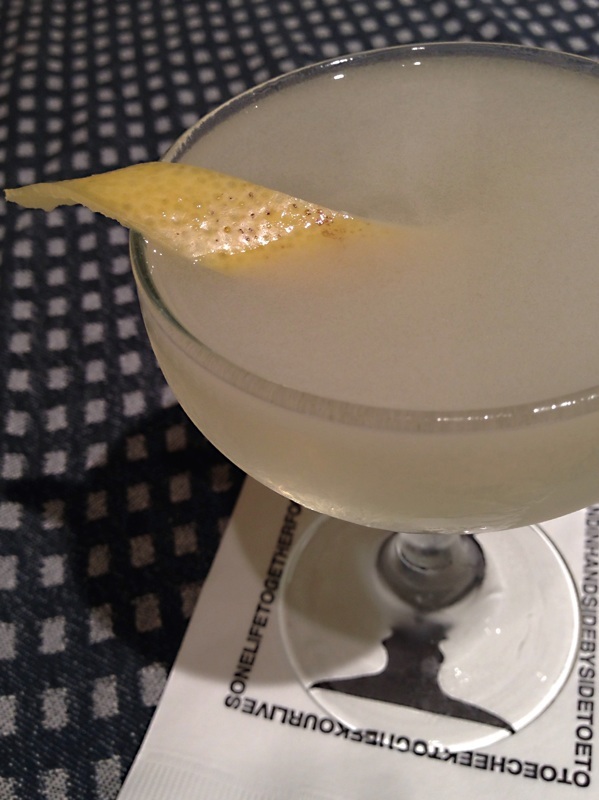 If you are a frequent reader of Summit Sips (and we really hope that you are!) you may have noticed that activity here has slowed down a bit lately. You may have also noticed that we recently made a long migration to the Pacific Northwest. Moving takes its toll on free time with a never ending list of projects. It's an unfortunate coincidence because we often have a lot to share at this time of the year. But now that we are finally getting settled, it's time to resume where we left off.
The Paddington cocktail is one that we have been meaning to make for a while. It comes to us by way of Jim Meehan's PDT Cocktail Book. This one was created by David Slape in the fall of 2008. It's another recipe that always makes the list of favorites from the book whenever you do a little research. We would have featured it sooner, but we ran ourselves clean out of Lillet in preparation for the move. By the time we had some, we had no orange marmalade. You get the idea.
Paddington by David Slape
1.5 oz rum
.5 oz Lillet Blanc
.5 oz grapefruit juice
.5 oz lemon juice
1 barspoon orange marmalade
Absinthe rinse

Shake with ice and strain into a chilled, absinthe-rinsed coupe. Garnish with a grapefruit twist.
Regarding the ingredients, let's start with the rum. As written in the book, Slape calls for Banks Five Island Rum. We haven't had the pleasure of trying it (shame on us?) so we substituted Cruzan which is a lot easier to find. Banks is a blend of rums from different regions of the Caribbean. It's described as a white rum with dark rum character. Cruzan white is a St. Croix rum made from a blend of rums aged up to four years, then filtered to lighten the color and smooth out the flavor. Is it a decent facsimile? Probably not, but the cocktail it made was fantastic!
Lillet Blanc is the slightly sweet fortified white wine aperitif that you may remember from such drinks as the Vesper and the Corpse Reviver No. 2. Here, it smooths out the intensity of the rum by adding a light citrus and herbal character. Of course, this aspect is also strengthened by the lemon juice and our unsung hero of mixology, the grapefruit.
The balance of sweet and sour is attained through the use of orange marmalade. Using a jelly product in this way is similar to Jamie Boudreau's Breakfast Collins, but marmalade is also bitter because it's made from orange peels which brings another flavor element to the glass. Grapefruit is already somewhat bitter, but the combination of ingredients in this drink results in something delicately balanced rather than being too sweet, bitter or sour. It's really quite marvelous.
If all of that weren't enough, one more addition comes in the form of an absinthe rinse. We like to keep a dropper bottle of absinthe for just this purpose. The idea is that you add a small amount and swirl it around the inside surface of a chilled glass and dump it. The tiny trace left behind adds a nuance of flavor to the cocktail that gets poured into the glass. This works especially well with peaty Scotch to add a hint of smoke to drinks. Here, the absinthe hits the frosted glass and becomes instantly aromatic. The classic example of this concept is the Sazerac. Some folks use an atomizer to achieve the same result quickly. The overall flavor effect in this drink is like the Corpse Reviver in that it adds a bit of herbal anise without overpowering it.
All told, we love almost any drink with fresh grapefruit. This one is especially delicious and well balanced, even with a touch of bitterness from the marmalade. On paper it seems simple enough, but if you are still reading you now realize how many different components are working together. And that's the point. The flavors support one another instead of working against each other.
When we first tried the drink, we puzzled over the name. Paddington Bear supposedly came from "darkest Peru," in which case, we thought the drink should contain Pisco. That's a variation worth exploring, but the cocktail is actually named for a taxidermy bear that apparently adorns the wall at PDT in New York.