Pursuing a casual interest in cocktails will lead you through some delicious modern recipes and most of the classics. In fact, many cocktail books, either by way of documenting recipe categories and development, or out of respectful obligation, take their readers through the same forty classic cocktails adding just a handful of embellishments and additions. While that may satisfy some, the more adventurous among us are constantly seeking new flavors and exciting combinations. It's not always necessary to go out of your way to track down hard-to-find ingredients—there are still plenty of daring and innovative drinks that any well-stocked bar can create. Such recipes may break a few rules and challenge conventional thinking, but together they serve, at the very least, as a reference and a source of inspiration for trade professionals. That was the idea, anyway, behind Kirk Estopinal and Maksym Pazuniak's Rogue Cocktails book.
The collectible 2009 first edition of Rogue has been renamed and is now published as Beta Cocktails, but the philosophy hasn't changed. It is a compendium of innovative and unique modern creations by bartenders from around the country. Each drink stands on its own. Most emphasize unusual combinations and many ignore classic traditions to offer bold flavors that expose the reader to exciting possibilities not normally considered.
One of the cocktails featured in the book is a recipe we have wanted to post on Summit Sips since we first saw it on the menu at The Violet Hour in Chicago. The Art Of Choke by Kyle Davidson combines some of our favorite elements in unexpected proportions to create a rocks drink like no other.
Art Of Choke by Kyle Davidson, The Violet Hour, Chicago
1 oz white rum
1 oz Cynar
1/8 oz fresh lime juice
1/8 oz rich Demerara sugar syrup (2:1)
1/4+ oz green Chartreuse
2 sprigs of mint

Gently muddle a mint sprig with the other ingredients in a mixing glass, stir with ice, and strain into a rocks glass over fresh ice. Garnish with the other mint sprig.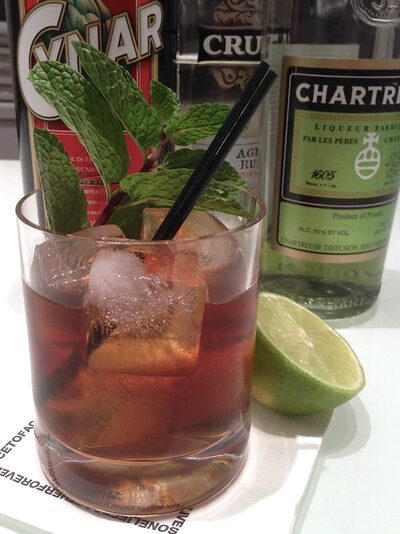 Indeed, Davidson has created a new cocktail category with this recipe. Using his template of half amaro, half base spirit, the Art Of Choke is a play on words for its main ingredient, the artichoke-based Cynar. We have seen this cocktail documented with several variations. One that we prefer has the Cynar quantity bumped up to 1.5 ounces and a dash of Angostura. A slight over pour of Chartreuse doesn't hurt either. Another version triples the doses of lime and Chartreuse. Clearly, it's a resilient combination that yields tasty results without taking itself too seriously. As stated in the book, recipes are guidelines, not gospel.
For us, nothing sounds better than muddled mint, Chartreuse and a Cynar-rum base with just a trace of lime, but others may find the flavors a little challenging. We will admit, the Art of Choke isn't for everyone, but if you love spirit-forward cocktails, don't mind a touch of bitterness, or wish to explore the bleeding edge of modern cocktail innovation (even though this drink is already a few years old), these are ingredients that you can actually find without much trouble. Give this one a try and let us know what you think. Better yet, grab a copy of the book and take your cocktail adventures to a new level!