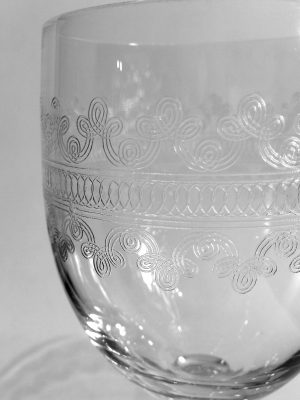 When we first decided to share our glassware collection with readers, we opened the doors of possibility, offering unique and inexpensive vintage and antique stemware to everyone. It was our hope that customers would be able enjoy their favorite recipes using glassware exactly like the cocktails pictured here on Summit Sips. We are pleased to report that many items from our collection have found new homes far and wide.
Whenever glassware leaves our shelves, it makes room for new items, like the wonderful set of etched wine glasses pictured here. We imagine using these glasses for everything from wine, water and champagne or for drinks like the Seelbach or the Oliveto. Actually, any recipe would work nicely in these gorgeous stems. To help folks find new items, we created a category called Latest Arrivals where we feature the newest additions to the store.
If you purchased a set or or even a single stem from the Summit Sips Store, we'd like to hear from you. Send us a message so we can exchange a picture of your glass being used to feature it in an upcoming Spotlight article. Thank you for reading and for choosing Summit Sips as your source for unique cocktail glassware.