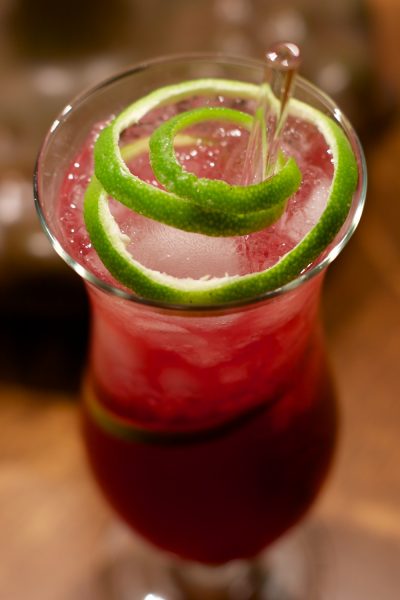 In our opinion—no, scratch that—this is just an indisputable fact: There's no better compendium of Tiki cocktails than Jeff "Beachbum" Berry's Remixed. So, when we feel like exploring drinks that remind us of the tropics, we look no further. Facing so many choices and a variety of unusual ingredients, we decided to search for a recipe that was fast and easy and didn't require us to buy something new. We settled on the Oahu Gin Sling for it's simplicity.
Historically, a sling predates the classic cocktail and stems from a period before drinks contained bitters. At that time, they also would not have had citrus, except as a garnish, amounting to little more than sweetened spirits. While modern versions with their added fruit juices and seltzer may not adhere to historic definitions, the fact remains that naming conventions are far less important than the flavors in the glass, and it wouldn't be the first time a sling fell into the Tiki category.
The Oahu Gin Sling was created in 1970 by Playboy Magazine food and drink editor Thomas Mario. Despite being called a modern sling, it's really not pretending to be more than it is. With these ingredients, it certainly cannot claim deep and exotic character. Instead, it's light, refreshing, and somewhat singular in nature—but that's not necessarily a bad thing. This is one of those recipes that could spawn all kinds of crazy variations, or you could just leave well enough alone and accept the idea that not everything has to have Campari or some other amaro. Sometimes it's nice to enjoy a simple drink as it was intended.
Oahu Gin Sling
2 oz gin
1 oz fresh lime juice
.5 oz creme de cassis
.5 oz Benedictine
1 tsp simple syrup
3 oz soda water

Shake everything except soda water over ice. Add soda and stir, then pour unstrained into a pilsner glass. Garnish with a continuous peel spiral cut from large lime.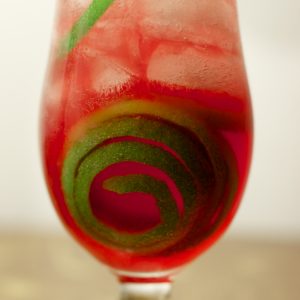 This is without question all about the crème de cassis. If there was ever an example of a drink that emphasizes black currant liqueur, this is it. We rarely suggest spending top dollar on ingredients, but when it comes to cassis, we have to recommend giving yourself permission reach beyond the bottom shelf. Our last bottle of cassis was a common, inexpensive brand, but this time around we selected a bottle of Briottet and couldn't be happier. The rich fruit and gorgeous color will definitely make a better Kir and Diablos, and we'll be looking for more drinks to make that contain cassis.
The lime juice plays a supporting role, adding acid to the black currant and boosting its flavor the way lemon might improve a pie filling. It also subtracts much of the sweetness leaving an impression that this drink is dry, even though it also contains Benedictine and a little simple syrup.
The gin is also helping the fruit by doing what gin does best: elevating the other ingredients with its botanicals in ways other spirits cannot. It's certainly not recognizable as a gin drink, though you would definitely detect something missing if you used vodka. The Benedictine weaves into the equation with such subtlety that it is hard to identify until the long finish when its herbal character appears.
Perhaps the most challenging part of this recipe is the garnish. It calls for a long, continuous peel from an entire lime. Lime peel is usually shallow and difficult to remove. Unlike an orange, peeling a lime is not easy to do. We opted to use a channel knife to carve away one long spiral. This proved to work well, but it took so long we wondered if a vegetable peeler would have worked better even though it would have resulted in something more like a horse's neck. If you put in the time and do it right, the result is quite stunning in the glass and you do taste some of the lime oil as you sip the drink.