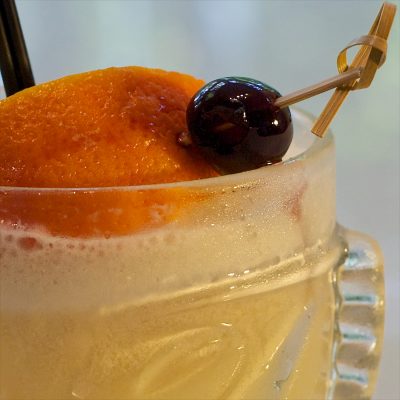 We've been enjoying Mai Tai cocktails with homemade orgeat syrup all summer long. As good as they are, sometimes you need a change of pace. Not wanting to stray too far, we settled on the Beachbum Cocktail. This tiki temptation has everything you might expect—multiple rums, multiple juices, delicious liqueur and homemade syrup—and yet it's so simple that anyone can make it. Despite the fact that it has six ingredients, none of them are hard to find, and you should already have your own orgeat, right? This drink was created by New York speakeasy PDT's John Deragon. It appears in Jim Meehan's PDT Cocktail Book with a note describing it as a tribute to Jeff "Beachbum" Berry, the modern mixology hero perhaps more responsible than anyone for bringing the Tiki genre back to life.
With so many countries of origin multiplied by all of the different styles available, building a complete rum collection can fill even the tallest liquor cabinet and empty the deepest pocketbook. Inevitably, you end up making certain choices. Even if you do settle into a nice collection, chances are you don't have every option in your inventory. We see this more as a creative challenge than a contest about who can collect the most bottles. Like any spirit, each brand and style of rum contributes specific flavors to a drink. As we will demonstrate, even a very specific recipe may be able to handle a few substitutions. After all, it's your drink, so the only person that has to like it is you (or your guest).
Beachbum by John Deragon

1 oz Mount Gay Eclipse Amber Rum
1 oz Flor de Caña Silver Dry Rum
1 oz pineapple juice
.75 oz lime juice
.5 oz Rothman & Winter Orchard Apricot
.5 oz orgeat

Shake with ice and strain into a chilled tiki mug filled with ice cubes and garnish with a cherry and an orange slice.
With that said, we made this drink without using Mount Gay nor Flor de Caña. It's not that we don't like these rums—they are both excellent—it's just that we were unwilling to wait, or to go out and purchase two bottles when we could still make a great version of this drink with what we had in the cabinet.
Whenever a recipe calls for specific brands it's easy to assume it is a paid product endorsement, but there are other reasons, especially when it comes to rum and Tiki cocktails. It may be that the creator knows exactly what each brand brings to the cocktail and nothing else will do. In other words, something about these products may uniquely combine to create a flavor profile unlike any other substitutions. That's all well and good and it's probably true with any specific combination, but unless you are running a bar, it's not always feasible to perfectly replicate the creator's intentions. Whenever this is the reason, we like to see a description from the recipe's creator that mentions the importance avoiding substitutions along with an explanation. That way, we understand the choices and why we might want to follow suit.
A second reason might be that the recipe as written is simply documenting exactly what was used when it was first created. That way, an objective attempt by someone else trying to reproduce the drink would result in the same experience. For rum, the country of origin can dramatically affect the overall flavor of a drink, so knowing what went into the original might help you select substitutions that come close. For our version of the Beachbum, we chose a silver rum by Cruzan, and Appleton VX for the amber. Sure, Appleton is a Jamaican with flavors that are somewhat different from Mount Gay from Barbados, but we are happy with the choice!
The Beachbum includes pineapple juice (always use an unsweetened variety) and fresh lime juice. Apricot liqueur and orgeat syrup balance the acid in the juice. We've used apricot liqueur (often referred to as apricot brandy) in drinks like the Pendennis Club, the Rural Juror and the Golden Dawn, to name a few. And almond-based orgeat is the darling of Tiki syrups. Here, everything comes together in a frothy combination that is not too tart nor too sweet with just a hint of tropics from the almond and the pineapple. It's both refreshing and delicious!
The recipe also specifies serving this in a chilled Tiki mug. You could certainly use anything big enough to accommodate all of your ingredients plus ice, but we love the Two Faces mug for its durability. The footed design stacks nicely in the freezer and the thick glass holds a chill. It also features "ears" to give guests something to hold onto while they wriggle with excitement over the delicious flavors they are tasting! We recently added a bunch of these to the Summit Sips store.