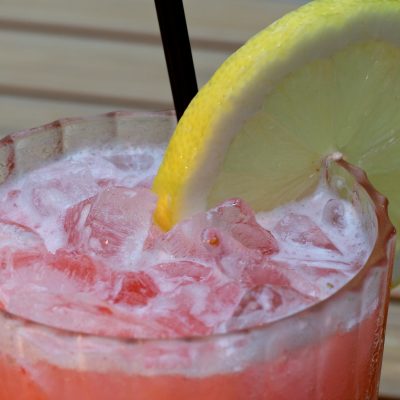 When it comes to refreshing drinks for summer, it's hard to beat the smash cocktail. If you haven't had the opportunity to try one, or you have yet to stumble across the right post here at Summit Sips, now is your chance to enjoy some of the best cocktails we've ever shared. We've introduced countless friends and family to one or more of these recipes over the years and have only witnessed reactions of smiles and praise. Imagine our delight when Imbibe Magazine featured Smash cocktails in their latest issue.
For those of you interested in the retrospective approach to this idea (and that should include all of you), don't let another weekend go by without trying the Gin Red Basil Smash, the Whiskey Smash, or even the Tequila Sage Smash. All are solid examples of what you can achieve with a muddler and some citrus. This time, we are borrowing a bonus recipe from Imbibe called the Peruvian Summer Smash by San Diego Bartender Eric Johnson.
Peruvian Summer Smash by Eric Johnson, Sycamore Den, San Diego
2 oz pisco
.5 oz orgeat
.25 of a lemon, cut into 3 wedges
2 fresh strawberries, hulled and quartered

Muddle the lemon wedges and strawberries. Add other ingredients and shake with ice cubes. Strain into a cracked ice-filled glass and garnish with a lemon wheel and slice of strawberry.
It may not be historically connected with the name, but most modern smashes we have tried share the same technique: muddled lemon wedges. This has the unique effect of extracting not only the juice from the fruit but also the oils from the peel. An abundance of lemon oil gives the drink a lemon potency that is impossible to achieve any other way. To do it right is to really muscle your way into the wedges squeezing out every bit of juice from the fruit. Although it isn't present in this recipe, mint often accompanies the lemon in smash drinks, and other herbs make great substitutes.
For this drink, we also have strawberries. The recipe calls for fresh berries which is always a good idea, but we used two frozen strawberries that we nuked in the microwave for 20 seconds. Softened this way they are easily muddled with the lemon, and we don't think the flavor suffered one bit.
Like any sour formula, balance relies on both the acid from the citrus and some sweet element. Strawberries alone won't be enough to offset the lemon juice and oil. Eric Johnson elected to use orgeat syrup. If you are not familiar with orgeat, it's the secret ingredient in a proper Mai Tai and it's easy to make at home. The flavor comes from almonds and a hint of orange blossom. Orgeat is the perfect complement to the other ingredients in this recipe.
Last but not least is our base spirit. You could make a smash with anything, but Pisco is simply a stroke of brilliance here. Something about the orgeat and strawberries enhances the smooth and silky nature of the pisco giving this drink a luscious effect more akin to a dessert than a summer cocktail—yet, it remains refreshing. It's just more delicious than we expected! Our smash is featured here in a vintage Italian tumbler available in the Summit Sips glassware store.