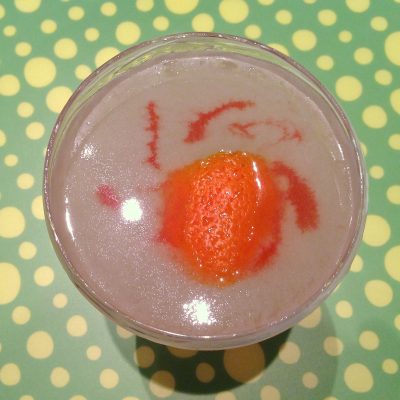 We love drinks with Chartreuse so we are always on the lookout for when this ingredient pops up on a menu. There are a few bars around the country that have featured this drink because it's another masterpiece from the Violet Hour's Toby Maloney. We've been hanging on to the recipe for the Poor Liza for years but haven't been able to make it because we lacked the base spirit. It requires Poire William, or Bartlett pear brandy. Not to be confused with pear liqueur, this is a dry eau de vie—a true brandy made from whole fruit, fermented and distilled.
If you aren't familiar with pear brandy, you've probably seen the bottles—you know, the ones typically made in France with the whole pear remarkably contained within the bottle. We've always admired the novelty of growing fruit inside a bottle hanging from a tree branch, but frankly, we'd rather not lose the volume of brandy to a pear we cannot eat!
Obtaining this elixir hasn't been a priority, and we suspect it is somewhat rare in the typical home imbiber's cabinet too. However, living in Portland, Oregon has some nice perks when it comes to cocktails. The pear happens to be an important agricultural product here, but more importantly, Clear Creek Distillery calls the area home. Their top-selling award-winning product is Pear Brandy, and we now understand why!
Poor Liza
2 oz Clear Creek Pear Brandy (or other Poire William eau de vie)
.75 oz lime juice
.5 oz Green Chartreuse
.5 oz simple syrup
2 dashes Peychaud's bitters

Shake with ice and strain into a chilled cocktail glass. Garnish with several drops of Peychaud's bitters and finish with a flamed orange peel.
Toby describe's this drink as a Poir Williams Champs Élysées and that's pretty accurate. Aside from a few tweaks to the proportions, Poor Liza opts for lime instead of lemon and Peychaud's bitters instead of Angostura.
When we first tasted Clear Creek Pear we weren't sure this would work at all. The pear flavor is so potent, crisp and delicious, this brandy all by itself is like biting into ripe fruit. It's that good. But the moment we tasted our drink, we were convinced. Pear brandy will remain a permanent fixture in our liquor cabinet!
Breaking it down, the Chartreuse pairs with pear perfectly! Something about its herbal character mingles nicely with the fruit skin flavors in the brandy, adding just a bit of sweetness strengthened by the simple syrup, yet balanced by the lime. The bitters work nicely to bring it all together and the flamed orange peel does its usual wonders with the nose. Absolutely perfect!