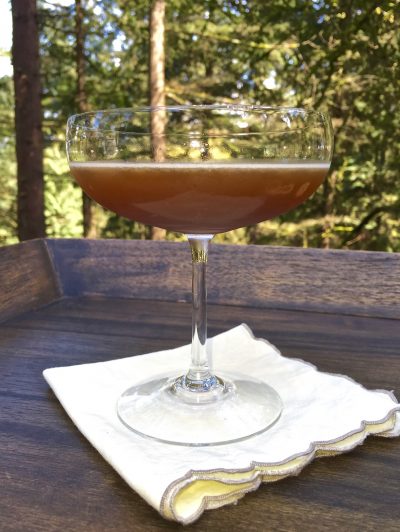 Five years ago, back when we were knocking bottles around in Minnesota, Derek Brown was mixing his way toward multiple accolades in Washington DC. A two time James Beard Foundation Award semi-finalist and craft bar entrepreneur, Mr. Brown has been recognized numerous times for his professional achievements and was recently named Bartender of the Year by Imbibe Magazine. This drink has been around for several years, but we hadn't tried it until now.
We've always been a fan of cocktails that put an unusual twist on classics, so when we read about The Getaway we knew we had to try it. It has been described as a Cynar Daiquiri which is probably as good of a reference as any. Some of you following along will immediately know what that means, but for everyone else, a few links can help you understand that description. First of all, Cynar is an Italian bitter digestivo that combines flavors from 13 botanicals—the most notable being artichoke. It sounds odd by that definition, but don't knock it until you try it. Cynar is probably our favorite amaro among all of the fantastic Italian modifiers out there and if you read Summit Sips often, you find lots of references to the stuff. Cynar's deeply complex flavor is not as bitter as the more popular Campari which is lighter and fruity, but it packs a sweet herbal punch that seems to blend nicely with just about everything.
The second part of the reference is the Daiquiri cocktail. If you recall, this is a classic made using rum, lime juice and simple syrup. The difference here is that the acid is substituted with lemon which probably works better with Cynar. We also use a little less simple syrup in The Getaway in order to let some of the Cynar balance the lemon juice.
The Getaway by Derek Brown
1 oz Cruzan blackstrap rum
1 oz lemon juice
.5 oz Cynar
.5 oz simple syrup

Shake with ice and strain into a chilled cocktail glass.
The rum selection is important if you want to stay faithful to Derek Brown's recipe. He calls for Cruzan Blackstrap rum which is dark, delicious and inexpensive. There are other drinks you can make that use it such as the Corn & Oil, the Jungle Bird, or even the Dark & Stormy, but we also like having the bottle around to splash a float on our Mai Tai. In other words, this bottle probably belongs in your cabinet anyway.
In anticipation of loving this drink, we increased the proportions by 50% and double-strained it into an exquisite thin-walled cocktail coupe we recently added to the glassware shop. The resulting drink is brown, as expected (no pun to Derek intended). Absent of any ice shards due to filtering through fine mesh, there is just a wisp of fine bubbles swirling on the surface. The nose definitely reveals the blackstrap molasses bolstered by the herbal aromas of the Cynar. The sip hits with an initial sweetness before the sour and bitter take over. A long, complex finish leaves you wondering about the base spirit and trying to confirm whether this drink is sweet, sour, bitter or strong.
Perfectionists out there will have fun experimenting with the balance of this cocktail. Depending on how much you like sour or bitter flavors there's certainly opportunity to make adjustments to suit your taste. There's also room to riff on this theme. One could easily swap the rum or choose a different amaro, but something about the recipe as-is seems delicate when you taste it, and a subtle approach to experimentation may be the better route to take. For instance, food pairing may be enough to create evocative surprises. We were munching on marcona almonds while sipping—either the nuts or the salt had a marvelous effect on the drink. Let us know what you think of The Getaway in the comments below.