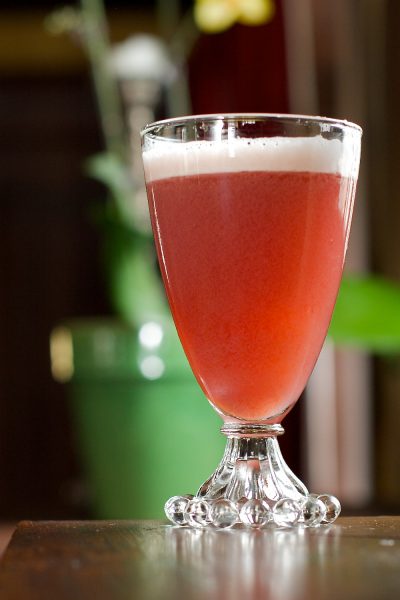 A Fizz—that sounds interesting, but sloe gin? Isn't that the sickeningly sweet red stuff from from when you were young and didn't know any better? Well, yes and no. And, that's a problem we need to overcome if we are to restore this drink to its rightful place as a refreshing classic. To get there, we need to understand a few things about our base spirit. Sloe gin isn't actually gin at all, or rather, it isn't gin anymore.
It's supposed to start as gin, but during an infusion of sloe berries (from the blackthorn bush, related to the plum), sugar is added and it slowly transforms into a liqueur. That seems straightforward enough. The problem is that American manufacturers have cheapened the process over the years to the point that most of what you find on shelves today isn't even made with gin. Untold artificial flavors and too much corn syrup later, the disgusting transformation is complete. But all hope is not lost.
A typical solution would be to make your own. The process is easy enough and well-documented, but who has a blackthorn bush? Sloe berries are essentially inedible by themselves, so you aren't going to find them at the supermarket. Fortunately, English gin maker, Plymouth continues to do it right. For the base they use their own Plymouth gin (a personal favorite) and the result is a fantastic product that is totally different from the syrupy mess I described earlier. Track down a bottle of this and you will be able to make the cocktail. There are other brands worth trying, like Juniper Green Organic Sloe Gin, and one made by Hayman's. Find something else, and it might be better to, "move along—this isn't the sloe gin you're looking for."
Sloe Gin Fizz
2 oz Plymouth Sloe Gin
.5 oz lemon juice
1 teaspoon superfine sugar
club soda

Add all but the club soda to a shaker and shake like hell. Strain in to a tall, chilled glass. Forcefully add the sparkling water to accentuate the foam.
This is a Fizz, as opposed to say, a Collins. The difference is subtle, but it usually boils down to ice and the size of the glass. A Fizz is normally served without ice and the glass is often a little shorter than the Collins so it can be consumed quickly. Historically, fizzes were sometimes served in the morning—or more accurately, the morning after—providing a little zip or pick-me-up to counteract last night's overindulgence. Of course, you can drink a fizz anytime.
Go ahead and use rich simple syrup instead of superfine sugar. Since this is served without ice, it becomes very important that your glass is chilled and that you adequately shake the drink. This also builds up the natural foam which is a sign of a good sloe gin. When you add your club soda (which should also be cold), you are trying to emphasize that fizzy froth, so squirting from a siphon can be handy here. If you sprinkle the drink with sugar, it should really get the bubbles going, and by shaking with a little egg white you can take it even further. Could you serve it over ice anyway? Sure, but it won't have the same appearance, and it won't be a proper fizz.
You may have to search around for a decent sloe gin in the US. Plymouth is getting easier to find, and other brands have followed, but we still had to order ours online. If all you see is the American brand liqueurs that are not from a craft distillery, don't bother. It's not the same, and your cocktail will only disappoint. Some say the best sloe gin is homemade, and in Dorstone, Herefordshire, England, a contest is held every year to determine who is the Grand Master of the Sloes. With a good product, you should taste a bit of nuttiness in addition to the fruit flavor. Sloe berries have large stones or pits, and the long infusion draws out an almond-like character that is very pleasant. Inferior brands try to emulate this using almond flavor extract.
If you are feeling adventurous, you could experiment with this cocktail using egg white to really build up a frothy meringue. Drop the soda completely and make a Sloe Gin Sour served up in your favorite cocktail glass. You could even fortify the sloe gin with some regular gin to lighten the fruit and make it more of a sipper. We have also seen people rave about combining sloe gin with half as much bourbon or rye, finishing with a dash of absinthe and orange bitters. If that sounds intriguing, how about mixing it with Applejack or Calvados. Be creative and help resurrect this lost-and-found ingredient!