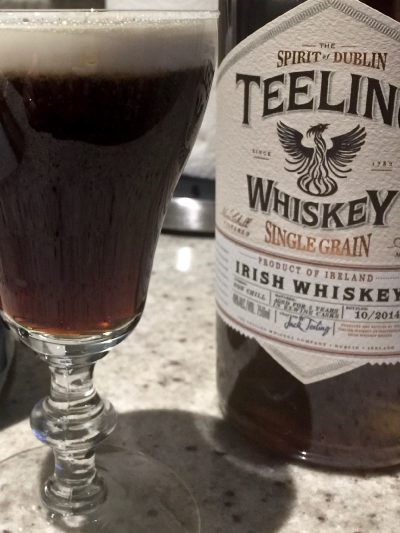 Coffee flavor in cocktails is nothing new. Classic recipes like Mexican and Irish Coffee are legendary. You also have coffee liqueur which shows up occasionally in recipes (one of our favorites is the Curfew cocktail), not to mention how easy it is to make an infusion. Drop a dozen beans into a bottle of vodka and in just a few days you have coffee vodka for a very interesting "martini". We happily admit to hosting more than one party with a creamy and sweet espresso cocktail on the menu! All playfulness aside, some readers know that we are actually pretty serious about coffee. We roast our own beans, pull shots of espresso at home, and we don't mind sharing our experience and knowledge with others. Ok, we are coffee snobs (this is the Pacific Northwest, after all) but we still get excited when new products come around that allow us to merge our interests. That's exactly what happened when we met Dan Bruner, creator of Grouphead Coffee LLC.
Dan is a fellow Portlander whose love of coffee goes way beyond our own—something we didn't know was possible. Recently, Dan started bottling and selling his fantastic espresso concentrate—a more flavorful and convenient alternative to cold-press. His method retains all of the delicious flavors you expect and want in a great cup of coffee. A true concentrate, most folks will enjoy it mixed 1 part Grouphead to 5 parts hot water.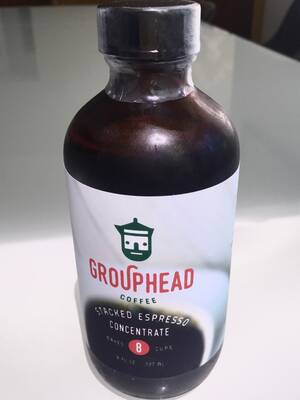 Yet, why stop there? A cup of coffee is one thing, but we wanted to see what we could do with the extract in cocktails.
The obvious starting point was to attempt an instant Irish Coffee which typically contains 4 ounces of hot java. Instead of measuring beans, grinding, filling our coffee maker with water and brewing a small pot of coffee for just one drink, we simply put on a kettle of hot water. Within minutes, and using only two-thirds of an ounce of Grouphead concentrate, we were sipping a classic Irish Coffee (here's the recipe, just substitute 5:1 hot water and concentrate for the coffee). Considering how easy this was, we should add it to the house menu and start offering it to guests form now on.
Our next idea was to see if we could quickly whip up a small batch of coffee liqueur. Sure enough, with some neutral spirits and brown sugar, we're ready to make the Curfew again! Flavor-wise, this a la minute liqueur rivals any of the craft coffee cordials we have tasted, and we are blown away by how delicious it is served neat.

Instant Coffee Liqueur
1 oz Grouphead Stacked Espresso Concentrate
1 oz water
1 oz (volume) brown sugar
1 oz neutral spirits

Mix the concentrate and water with brown sugar until dissolved. Add spirits. Seal in a bottle. Scale as desired.
Homemade cocktail ingredients don't get much easier than this, folks—it's all equal proportions! We used 190-proof Everclear for a potent and flavorful result. We like the strong bite from the alcohol but we could have gotten away with something much lower proof (vodka). Many commercial coffee liqueurs have a spiced character, so if that tickles your fancy, add a dash of vanilla extract or your favorite bitters. Scale this recipe however you like, or make just a little when you need it. We recommend making at least this much because it is so good you will want to sip a little all by itself.
With confidence and momentum, we dug up a pair of cocktail recipes published by Imbibe magazine last year. Both of these drinks are from the Black Hole Coffee House in Houston. They call for cold-press coffee which is still a concentrate, but not as strong—so we mixed Grouphead with water 50/50. The first drink is an Old Fashioned riff called the Black Hole Sun by Bryan Hutchinson.
Black Hole Sun (adapted)
2 oz bourbon
.25 oz Grouphead Stacked Espresso Concentrate
.25 oz water
.5 oz simple syrup (1:1)
2 dashes orange bitters
1 dash Angostura bitters
1 big dash chocolate bitters

Stir with ice in a mixing glass until chilled. Strain into a chilled rocks glass and garnish with a lemon wheel.
A cocktail like this one is definitely spirit-driven, and any Old Fashioned tends to be on the sweeter side. The coffee doesn't dominate but instead adds heaps of complexity with the melange of bitters. We will definitely try making this again when we can share it with guests. Next up is a drink called the Wormhole—we aren't sure why—but when we saw the ingredients we had to try it.
Wormhole (adapted)
1.5 oz Brancamenta
.5 oz Grouphead Stacked Espresso Concentrate
.5 oz water
.25 oz lime juice
Sparkling water

Build in a Collins glass, add ice and top with sparkling water. Garnish with a sprig of mint.
The Wormhole cocktail by Ryan Perry really surprised us. First of all, we need more recipes with Brancamenta. Who knew it would work with coffee, and lime juice of all things? Brancamenta is sweeter and not as bitter as regular Fernet-Branca, and of course it has the minty-fresh flavor that's just delicious with coffee. The lime and the prickly carbonation give this drink just enough acidity to make it mouthwateringly good. The coffee adds a nice finish to an otherwise refreshing and complex highball.
We are really only scratching the surface with coffee drinks, but we've made a good case for using Grouphead concentrate in cocktails. Making a pot of coffee can be inconvenient when you are focused on cold cocktails. Even if you aren't a coffee drinker, Grouphead fits nicely alongside syrups and tinctures. The high concentration makes a little go a long way. We know there is a Manhattan riff or two out there, so start experimenting and let us know what you what you come up with.