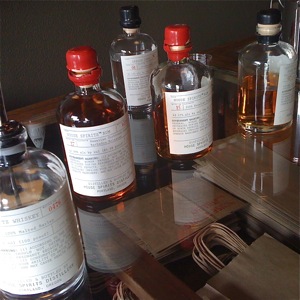 It may not look Like much from the outside—if not for the name painted in large letters across the building you might drive right by. You won't see rickhouses stacked with aging oak barrels. There's no farmland in sight and no thoroughbreds at pasture. It's just another commercial building on a regular city block of Portland's east side. But there's a little bit of magic happening behind this unassuming facade.
House Spirits Distillery was started in 2004 by Lee Medoff and Christian Krogstad, both of whom were beer makers in a town where you can hardly throw a handfull of malted barley in the air without it landing on a microbrewery. These guys took it to another level. Building upon their combined experience brewing and wine making, they started distilling, and within a year they launched Aviation, a successful Plymouth style gin that continues to grow in popularity and distribution. A year later, they released Krogstad Aquavit which can now be spotted at most serious craft bars in Portland alongside thier Medoyeff Vodka. Having three successful bottles on the shelves is nothing to scoff at, but it seems the most exciting products may be yet to come.
In addition to their gin and aquavit, House Spirits has what they call their Limited Release Line. Often referred to as the "Apothecary" line, these small-batch half bottles line the walls of the tasting room adjacent to the distillery. The wax-sealed "medicine bottles" are individually numbered, bearing labels more akin to laboratory chemicals or pharmaceuticals than liquor. And yet, perhaps the design fits!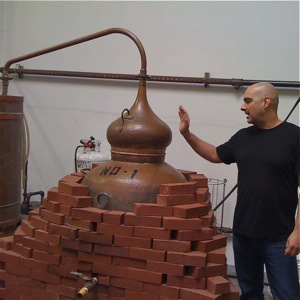 Take the short tour through the facility and you quickly recognize Lee's excitement as he explains the art of distillation–the process of converting beer, wine or cider into fine spirits. The concept is simple: ferment your grain, fruit or sugar to make a weak alcoholic solution. Then, apply heat while you collect, condense and concentrate the alcohol vapor. The trick is deciding what to keep and what to leave behind. Off-flavors are cut, and bitter notes are left behind like magic. While there are scientific cues like time and temperature, Lee modestly explains that his best tools are his senses. By smelling and tasting the results at crucial moments, he ensures consistency and quality.
Depending on where you live, you might be able to find the gin or aquavit at your local shop, but if you can't, talk to the store manager and make a request. The Apothecary items, on the other hand, are only available at the distillery. Each batch represents an exploration of ideas. Lee admits that their creativity is fueled by a desire to make what they like to drink. There's a Greek styled ouzo, rum made from Hawaiian turbinado sugar, and white whiskey, to name a few, but these are small batches that probably won't last long. Bar managers and restauranteurs have been known to walk out with cases of the small bottles. A good example is their first ever Oregon Whiskey. It's gone. You can still buy a delicious blended version which they say has become very popular as a mixing whiskey, but the rule here is obvious: if you taste something you like, buy it.
After trying almost everything, we left with an armload of precious cargo, convinced we could make room in our suitcase (the Limited Line fits snugly inside a shoe). It's hard not to make comparisons to the big producers in Kentucky that we recently visited, but whereas bourbon makers strive for consistency in a single product, House Spirits enjoys the freedom to experiment—and the experiments are working! We are looking forward to trying more, and I can't wait to see what they will do next.