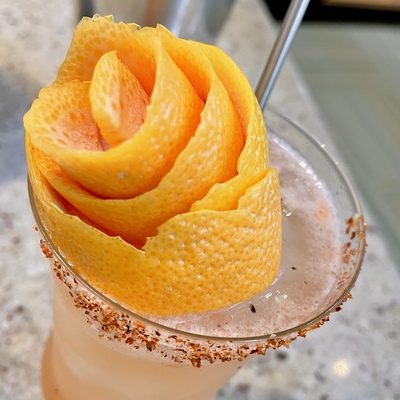 Not a lot of history surrounds the Paloma cocktail. A name that means "dove" in Spanish, the Paloma was apparently created by Don Javier Delgado Corona, owner of La Capilla in Tequila, Mexico and is the country's most popular drink. It is, in essence, a grapefruit and tequila highball, but we think of it more as platform of possibilities.
With so many recipes around, it can be hard to come up with the definitive version of this popular cocktail. The simplest is a combination of tequila and grapefruit soda, but better examples include fresh juice and sweetener with sparkling water and often salt. We wanted to do this cocktail proud by combining our favorite elements for a somewhat over-the-top rendition that still leaves plenty of opportunity to be creative. We will probably never make this drink the same way twice because it is so fun to experiment, but here is a good one, and you can take or leave the flourishes and still end up with a delicious classic.
Grilled Grapefruit Paloma
2 oz tequila
3 oz grilled grapefruit juice
.75 oz lime juice
.5 oz Ancho Reyes
.25 oz simple syrup
1.5 oz sparkling water
Tajín chili lime salt (rim)

Prepare a glass with chili lime salt rim. Grill grapefruit face down to develop a caramelized char. Set aside to cool before squeezing juice. Add grapefruit juice to a shaker with lime, Ancho Reyes, simple syrup and tequila. Shake with ice to chill. Strain into a large, ice-filled glass and top with sparkling water. Garnish with a long twist of grapefruit peel.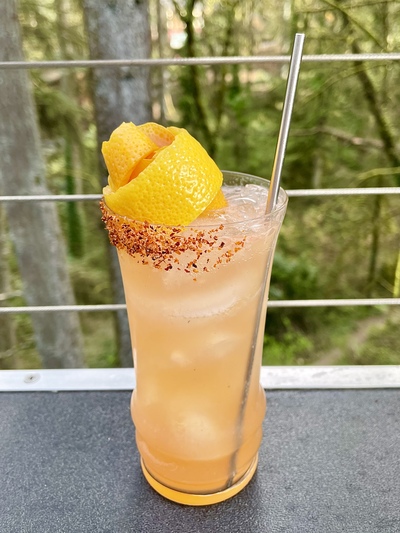 We knew going into this that using fresh grapefruit juice was an absolute must. Grapefruit is widely available, so we didn't even consider using a flavored soda. A friend of ours shared a recipe that called for grilling the fruit before squeezing, so we were all over that idea. It's not very hard to do—simply slice the fruit in half, heat up your grill, then toss it onto the grate for a few minutes. You should get a little charring as the face of the citrus begins to caramelize. At that point, remove from the heat and set aside.
Actually, before we started, we sliced off a long, wide spiral peel, anticipating the need for a garnish. This is a lot easier to do before you grill the fruit, and with a big enough piece, you can twist the peel around into a lovely rose shape. With the garnish ready to go, and our grilled citrus cooled, it was time to squeeze the juice. One grapefruit yielded six ounces that contained little flecks of char which was just fine. After squeezing a lime, we were ready to construct the drink.
Given that we were effectively making a fresh grapefruit soda, we added the lime juice to give it a bit more acidity which we balanced with a quarter ounce of syrup and some liqueur. Ancho Reyes is an ancho chili liqueur that we have used before in drinks like the Pit of Despair. The chili flavor adds a subtle burn that aligns with the grilled flavors, but this is an area that lends itself to creativity. You could just skip the liqueur and add more simple syrup to balance the lime, or pick a different flavor to take your version in another direction.
For the tequila, we were running low, so we combined an ounce each of blanco and reposado, but mezcal would have paired well with everything too. Next time we will try that for sure! Even a little mezcal would have brought some smokiness to the overall flavor profile. We might have welcomed that if we are honest, because the grilling effect is subtle. Cooking the grapefruit before squeezing it may have toned down some of its bitterness, but we were not getting much char.
We definitely recommend the salted rim, or at least a pinch of salt in this drink. Chili lime salt brings out flavors we already have, but a pinch is sometimes just what a cocktail needs to take it to the next level. All told, this is a delicious and refreshing cocktail that is reminiscent of drinks like the Greyhound. If that's your go to, give the Paloma a try. It is perfect for summer, and we are definitely looking forward to more of them!