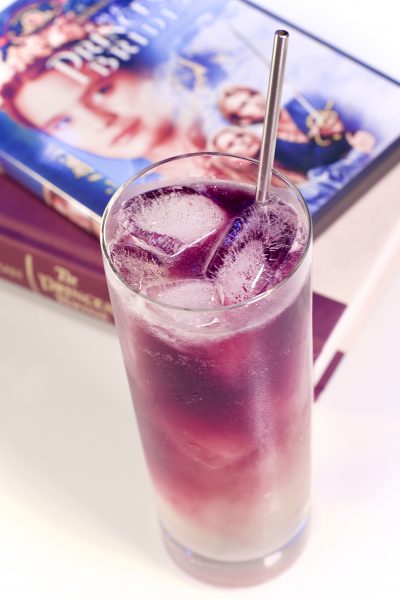 It would have been the 30th anniversary of the film when the Pit of Despair cocktail was on the menu at Victoria, a North Portland bar that likes to name its cocktails after characters or themes from The Princess Bride. Just a few weeks ago, a "remake" version of the film was released on quibi.com. With everyone in lockdown, filmmaker Jason Reitman devised the idea to construct the film using homemade contributions from Hollywood actors filming various scenes from quarantine. If you can embrace discontinuity, actors changing from scene to scene, and the use of stuffed animals alongside garden props and garbage bag stunt doubles, this scrappy homebrew video version is a fun remake of the classic film. It inspired us to do our own homemade remake of a great cocktail, but one we hoped would be as accurate as possible.
We had a few notes and a photo of the drink from our visit four years ago, but we almost had to consult Miracle Max to help us remember the ingredients. Fortunately, when we reached out to bar owner Lisa Victoria Hare she was gracious enough to share the original recipe. It was part of the 2016 winter seasonal menu, and although we did not make it back quick enough to enjoy it a second time, we are sure that plenty of others were able to try it. Whether you are from Florin or Guilder, we think this is one you will like.
Pit of Despair
1.5 oz silver tequila
.75 oz Orchard apricot liqueur
.5 oz lemon juice
.25 oz Ancho Reyes
Sparkling water
Red wine float

Add first four ingredients to a shaker with ice and shake to chill. Strain into a collins glass over fresh ice, add a splash of seltzer and a float of red wine.
This is a refreshing cocktail and a very nice example of how the right proportions of ingredients can combine to deliver something delicious. What reads like a silver/blanco tequila sour on paper veers far from margarita territory and lands somewhere closer to a Collins. Lemon and apricot liqueur provide a unique sweet and sour foundation with depth, elongated by a bit of sparkling water. The wine float further lengthens the tall format, but instead of adding more dilution and thinning the flavor, it deepens the character of this drink, adding dry complexity and color. It only takes a little, carefully poured over a spoon to establish a nice ruby layered effect.
Yet, something lurks under the surface. There is a burn that rises in the back of your throat, like a reminder that some of the best fairy tales have a serious side. If you recall from the film, The Pit of Despair was a torture chamber that housed "the machine"—a device used to study depression. In the case of our cocktail, the burn comes from Ancho Reyes, an ancho chili liqueur. It sounds odd, but it works, and the burn quickly subsides leaving you wondering if it was just your imagination as you reach for another sip. We are somewhat confident that this drink won't suck any years of life away, but we are absolutely certain that it will improve the years you have left.
We loved this cocktail the first time and appreciate it even more now that we have had a chance to revisit it. Give it a try, or if you are able to make your way to Victoria soon, wear a mask like the Man in Black so nobody has to call the brute squad.