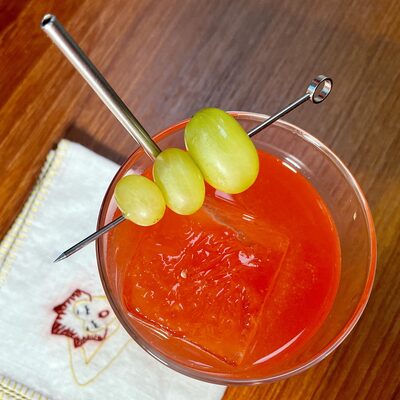 In the Pacific Northwest, a sunny break from winter rain signals the coming of spring, and before you realize it, spring is turning into summer. As bright warm days outnumber the rainy ones, we find ourselves reaching past boozy, spirit-driven sippers to cocktails that are a bit more refreshing, but with the complexity that an Italian bitter aperitivo can bring. Something sparkling like a Spritz, or an Americano comes to mind, but we'd also like a little citrus.
The Enzoni was created in 2003 by Vincenzo Errico of Milk & Honey, NYC, and it checks all the boxes. It also offers something we haven't tried before: muddled grapes. The mild-flavored juice is intensified with lemon and sugar and serves to elongate the cocktail which is a little light on alcohol to begin with. Flavorful refreshment is the point here, so a "sour meets Negroni" seems like a perfect combination.
Enzoni by Vincenzo Errico
1 oz London dry gin
1 oz Campari
.75 oz lemon juice
.5 oz simple syrup
5 white grapes

Muddle the grapes in a shaker pressing out the juice. Add the other ingredients and shake with ice to chill, then double strain into a rocks glass over fresh ice or an ice chunk. Garnish with skewered grapes.
Muddled fruit is not unusual in cocktails, but for whatever reason, we have never tried this with grapes. They seem like the perfect fruit for this technique, and while you might not think of typical grapes for eating synonymous with a ton of intense flavor, they actually do contribute plenty of juice that you can taste in the drink without it overwhelming the other ingredients. The recipe specifies white grapes, but there is some versatility here, as we have seen others succeed using red grapes in this drink. Seedless is probably better, especially if you aren't bothering to double strain.
The base spirit can be just about any London dry gin. A smoother, Plymouth style or fancy modern craft gin would work too, but isn't really necessary. In this drink, we don't mind a juniper-forward spirit because of how these flavors combine and elevate everything else. With only an ounce, the gin you use matters, but won't dominate. We used locally-distilled Rose City Gin which is an excellent value that strikes a nice balance of traditional flavors in a modern artisan product.
Of course, Campari provides the color and the bitter flavors, and a full ounce gives this drink its backbone. The grape juice and citrus sour tames the amaro to some extent, but Campari's bitterness also brings out tannic notes from the grapes. As always, it helps to taste and adjust things to achieve proper balance, but this is about tweaking the sugar and acid, leaving the full impact of the Campari intact.
There may be opportunities to expand on this recipe with other fruit, a different bitter liqueur, or even another base spirit. One variation that sounds interesting is the Fall Enzoni which calls for red grapes and rye. We look forward to trying that one in a few months!