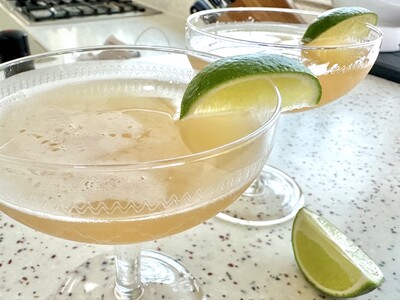 We have been enjoying the medium format as well as the more recent video shorts by Zach Zoschke, and in one if his cocktail features the other day he was wearing an Aviation Gin t-shirt. This was like a shout-out to Summit Sips as if to say, "Hey Portland, you should definitely try this cocktail!" We are game, and it was perfectly timed for a virtual happy hour anyway, so we mixed up some of these. Zach's relentless video uploads remind us of our own "Drink of the Week" series many years ago. Whether trying to write regular posts about drinks or shooting and editing videos, we appreciate the discipline this takes, especially to sustain an almost daily cadence. Well done, Zach and keep it up as long as you can!
The Brooklynite is a Daiquiri riff sweetened with honey syrup that will let your rum selection shine. We used Smith & Cross, but this drink could be tasty with just about anything:
Brooklynite
2 oz Jamaican rum
.75 oz fresh lime juice
.75 oz honey syrup (1:1 honey and water)
2 dashes Angostura bitters

Add to shaker with ice and shake to chill, dilute and aerate. Strain into a chilled coupe and garnish with a lime wedge.
As Zach says, it's "delightful" with an emphasis on the rum flavor up front. There's also something about honey in a cocktail that we love every time. The lime is also prominent but balanced and the bitters ties everything together as is often the case. This drink is so simple and satisfying we will be making more of them throughout the summer. We also look forward to echoing more of Zach's posts—he just keeps on featuring great drinks we haven't tried.