The April installment of our Bar of the Month tour brought us to the Teadrop Lounge, an important fixture of the Portland bar/cocktail scene that we reviewed nine years ago. If you only had time to visit one cocktail spot in the city, we think you cannot go wrong with a visit to Teardrop. It is consistently one of the best places get the most out of a cocktail adventure. They feature drinks from around the world as well as seasonal selections of their own design—drinks that are always unique and delicious. On this visit, we noticed their menu has evolved somewhat, with sections for Bright & Crisp, Arid & Aromatic, Supple & Herbal, Rich & Robust, alongside a distribution matrix with each cocktail marked visually.
We picked something from the Arid & Aromatic section called Philosopher's Path which was described as a gin cocktail with Buddha's Hand cordial and Mancino cherry blossom vermouth. Reading between the lines of that description is basically a dry martini with a lemon twist, only the "twist" is based on some of the most interesting and intensely aromatic citrus peel you will ever find. To call this a martini was maybe technically accurate, but the flavorful nuances made it one of the best examples I have ever tasted. This was par for the course for any experience at Teardrop.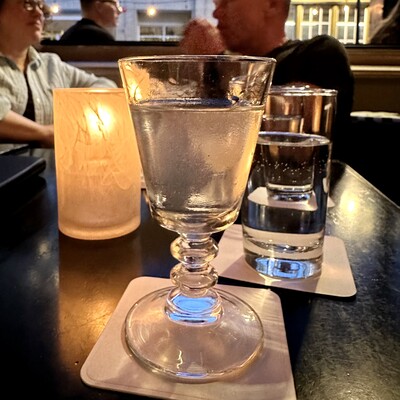 For our second round we went completely opposite and ordered a tiki-style drink that was right up our alley. Shore Leave contains Plantation Dark Double rum, a house sherry blend, cinnamon, passionfruit, lime—you get the idea—like a classic Don the Beachcomber recipe that he would have named after a snake or something.
Let's face it, even after the pandemic, the Teardrop Lounge is still a classy favorite. They continue to innovate and their drinks are masterful and delicious every time. It's arguably the best cocktail bar in Portland, and if they keep doing it right, they always will be.