We have fallen a little behind posting our 2023 bar scene experiences across Portland, but we are still making our way around the city. A few interruptions like birthdays and moving across town have affected our timetable slightly, but we still made a revisit one of our favorite little spots on the east side called Rum Club. It has been nine years since we first visited and wrote about this place, and all we can say is that in this intervening near-decade, it has only gotten better!
We sat at the bar, though tables are available as is a small patio. Years ago, on our first visit we took the opportunity to try a rum flight, but this time, we focused on cocktails. Our first round included two drinks that seemed to go together. They were the Tammy Faye, and Satan's Helper. Enough said.
For our second round we enjoyed the non-alcoholic Pregnant Pause—a mix of grapefruit, honey, hibiscus and lime, and the Moonage Daydream which was delicious, but honestly, we cannot remember what was in it. We do recall, however, that it was served in this wonderful ceramic Wray and Nephew mug. The last thing we need is more glassware, but a couple of these might be nice.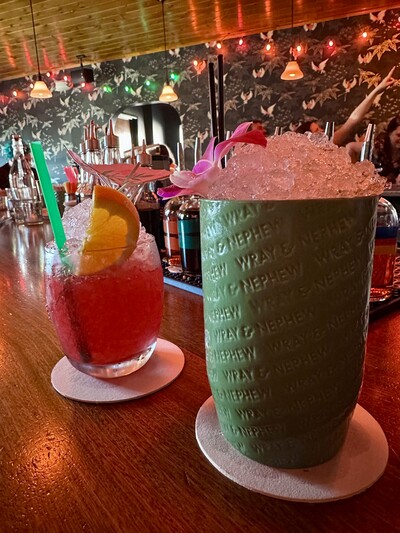 We will finish with two comments. FIrst, Rum Club never disappoints. The drinks are fantastic and the rum selection is obviously great if that's what you love. Second, we continue to be impressed by Portland's non-alcoholic options. Better cocktail bars are doing the right thing here. As long as patrons are willing to buy them, we think the growing low/no booze trend is long overdue. Well done, Rum Club!
As we continue our bar-to-bar excursions throughout the city, we'll continue to share the bar-of-the-month details. Here is a link to all BOTM posts in chronological order.