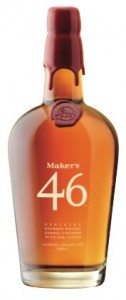 It's only been two weeks since Maker's Mark wax-dipped their first bottle of Maker's 46 and started sending boxes across the world. Last week, a shipment arrived in Minnesota and we quickly snagged a bottle. So, what's all the fuss about?
Makers Mark is a delicious bourbon made in Loretto, Kentucky, and like most bourbons, the creators pride themselves on tradition. In this case, it's four generations of tradition that has resulted in a recipe that has remained unchanged in 52 years! According to Bill Samuels, you don't mess with perfection. However, after more than five decades, he decided it wouldn't hurt to try something new.
His family has built an empire around a product that has become the go-to standard for bourbon drinkers all over the world. In fact, even at the Seelbach Hotel, right there in Louisville, if you order a Mint Julep, they reach for Maker's Mark. Yet, despite its popularity, Maker's Mark is still very much an artisan product. Limestone filtered water is drawn locally and combined with just the right proportions of grains. Batches are fermented in century-old wooden vats, and each bottle is individually hand-dipped in wax for the trademark seal. But the key to their product's success is in the barrels—literally. Barrel aging in toasted oak is what gives the whiskey it's color and some say up to 70% of its flavor.
Rather than break the impressive traditions, Maker's 46 starts with a proven winner—Maker's Mark. That's right. They take their flagship product just as it is before bottling and modify it (dare we say improve upon it) to create Maker's 46. Their unique process involves modifying oak barrels by adding brackets that hold charred wooden staves of French oak. Maker's Mark is then added to these special barrels where it is allowed to mature for several months. When it's just right, they bottle it.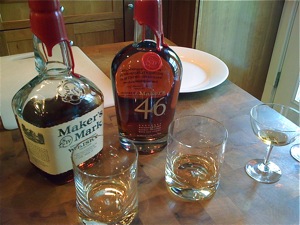 Maker's 46 is a winner. We did a simple taste test the moment we got home with the bottle. Maybe we were expecting more drama from 46, but it makes sense that this would not be a giant departure from their regular product. It's still Maker's Mark, there's no question about it. However, there's more to appreciate here. Certainly the smoky oak notes are more prominent, as are the intense spices, caramel and vanilla. It's not as pungent as say, Eagle Rare 10-year out of Buffalo Trace, but it's also not as smooth as Pappy Van Winkle's 20. Still, at around $34, this bottle is versatile for premium cocktails or just as a sipper.
Over the past couple of days, we have had a chance to mix a few cocktails with 46 and must say that we do enjoy it. It's fantastic in a Mint Julep, and simply wonderful in a Dogwood Manhattan. As time goes on, we hope to do more with it. With both Maker's products on hand, it will be hard not to grab the 46 when an opportunity presents itself.