A good friend of ours has been reading a collection of short stories by PG Wodehouse about a character named Bertie Wooster and his valet, Jeeves. He came across a passage in the 1924 classic "The Rummy Affair of Old Biffy" in which Bertie recounts his experience at an exhibition at Wembley in North London. There, he is drawn to a Planter's bar where a man is mixing an unusual West Indian cocktail. Without going into specific detail, he simply states that the drink contains seven ingredients:
"A planter, apparently, does not consider he has had a drink unless it contains at least seven ingredients, and I'm not saying, mind you, that he isn't right. The man behind the bar told us the things were called Green Swizzles; and, if ever I marry and have a son, Green Swizzle Wooster is the name that will go down in the register."
The exhibition at Wembley was probably very similar to the Minnesota State Fair, but while Bertie gets Green Swizzles in the 1920s, the best we have today is probably that guy making fudge at the Grandstand. Still, can't we make our own Green Swizzles?
We're not the first to consider the idea, but to pull it off, you need a swizzle stick and something in the recipe to make it green. We have the swizzle stick covered in the last post (and we gave one away). For the color, there are a few possibilities. Midori quickly comes to mind, but that didn't exist until 1978, and we'd rather be faithful to the story, even if the drink is pure fiction.
Crème de menthe is another possibility, and it's the one David Wondrich chose when he was searching for a solution. Mr. Wondrich was, after all, able to track down a 1930 photograph of a man drinking a Green Swizzle in Trinidad to prove that the drink did indeed exist. And yet, we think he could have considered another green spirit instead of créme de menthe.
Chartreuse Swizzle
1.25 oz Green Chartreuse
1 oz pineapple juice
1 oz lime juice
.5 oz falernum

Swizzle with crushed ice until frost appears on the glass. Add more crushed ice and garnish with mint sprigs and freshly grated nutmeg.
Marco Dionysos of Clock Bar in San Francisco invented this cocktail in 2003, but Green Chartreuse has been around since 1764. We like to believe that Bertie Wooster's Green Swizzle was our Chartreuse Swizzle—a drink that is compounded using West Indian flavors and fruit, old world spirits and the swizzle technique to mesmerizing effect.
Of course, this swizzle doesn't have seven ingredients! No problem. Just add a little rum and a few dashes of Angostura Bitters, count the mint, and Bob's your uncle. We also recommend using your own falernum. It's easy to make, it only takes a few minutes of work and it will be ready the next day.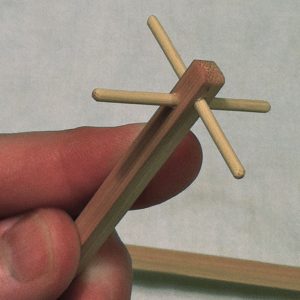 Free Swizzle Stick!
We'd really like to know what you think. Did you make some falernum? Are you going to? Is there a version of this drink you want to share? Have you had another type of swizzle before? Was it green? Anyone who leaves a comment below over the next week will qualify for a drawing (prize has been awarded). Next week, we'll put all the names in a hat and pick a lucky winner. We will then contact you for an address and send out this hand-crafted swizzle stick! Everyone else will have to make their own or swizzle with their bar spoon.