There's a class of cocktails out there called the swizzle. They can contain any variety of ingredients but are often rum-based with a "Tiki" flair. A swizzle can be a Punch or something more akin to a Daiquiri, but they are served with crushed ice and usually find their origin in the Caribbean. What sets the swizzle apart from a Julep, for example, is the preparation. This is truly a cocktail-on-a-stick!
The Swizzle Method
We were a little skeptical at first, thinking that this is really just a primitive blender, but using the proper technique and the appropriate tool, it's possible to get a nice coating of frost on your glass while you super-chill the contents. Basically, you dunk the spoked end of a stick into your iced cocktail and with the other end sticking up out of the glass, you rub it back and forth between your palms to carefully mix the ingredients. Once you get the hang of it, you can do this very quickly, steadily lifting up through the ice or pushing down toward the bottom. You can also mix just a specific layer in this way, avoiding chunks of fruit or muddled ingredients if the recipe calls for it.
Obtaining your own Swizzle Stick
The tool for this job isn't just a simple plastic drink stirrer that most people associate with the term. This stick is cut from a tree that is native to the West Indies and is known for its unusual, five-pronged branches. With the Minnesota State Fair in full-swing, you might expect to find this stick for sale at the Merchandise Mart, or perhaps the Grandstand, but you won't. Nor will you find one in the Horticulture Exchange or anywhere near Machinery Hill. In fact, you would be hard pressed to find a swizzle stick anywhere in St. Paul!
So, if you can't buy one at the State Fair, surely you can find these exotic sticks online, right? Wrong. It seems the only way you can obtain an authentic swizzle stick is to get one from a good friend, fly to Martinique where they call it a baton lele and bring one back with you, or make one yourself (since this writing, Cocktail Kingdom has been selling them). We love a challenge like that, so when we read Chris Stanley's post regarding a DIY solution to this dilemma, we had to give it a shot. Not everyone likes such projects, and even though this is pretty simple, we decided to host a giveaway drawing (more about that later).
Swizzle Stick DIY Summary
1 bamboo chopstick or long wooden spoon handle
2 bamboo skewers (toothpicks are not strong enough)
drill bit and a drill

Drill perpendicular holes at one end of your chopstick/handle.
Test-fit hole size and adjust with sandpaper to get a snug fit.
Clean up the handle before final insertion of the skewers.
Cut skewers to length, depending on the smallest diameter of your glass (usually at the bottom of the glass).
Clean up ends of cut skewers with sandpaper.
Insert cut skewers into holes and center them.
Wash and dry, then rub with mineral oil to finish.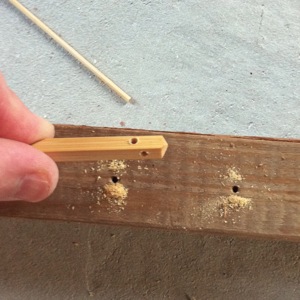 Gather the materials
Chris recommends finding a long wooden spoon and cutting off the handle. While this probably works fine and doubles as a light muddler, we decided to use a bamboo chopstick. The bamboo is strong despite being narrow. The important point is to find wood you can put in a drink. Dowels from the local home store or hobby shop are treated with chemicals that you don't want in your drink, but a second-hand spoon or something from your kitchen drawer will work nicely—if it's long enough. It needs to clear your glass so you can get your hands on it while swizzling. Ten inches seems about right.
Next, you'll need to find some bamboo skewers. We used the shorter ones which are also a little thinner than the longer kabob skewers, but toothpicks won't work. They will snap off when you try to swizzle through crushed ice. Once you have the skewers, you will need to find a drill bit that is just slightly smaller in diameter. You need the spokes of your swizzle stick to hold by friction alone. You don't want to use glue which would eventually break down and end up in your drink.
Construction Begins
Drill a hole as straight as possible through the end of the chopstick. This is a lot harder with a round spoon handle, so might want to mark your spot and use some kind of perpendicular guide to get the hole centered and straight. With my bamboo chopstick, the "food end" will be the handle, and the convenient square end gets drilled for the spokes.
Next, drill the second hole perpendicular to the first. You need to move up about an eighth-inch so your skewers don't run into each other. Once you have your holes, test fit your skewers. They should be hard to slide in, but not so hard that they split the wood. Try different ones. Some are slightly thicker than others. You can also sand them or carefully enlarge your holes, but sanding the skewers is safer. It's easy to accidentally make the holes too big and then you need to start all over.
Once you think you will have a good, tight fit on both holes, you should consider sanding any burrs or sharp edges. It's a lot easier to do this now than after you fully insert your skewers. Our chopsticks were decent ones with sharp corners, so we used some fine grit sandpaper to smooth them up. This is also the time to trim your skewers to the appropriate length. You will need to measure your glasses and do a few tests first. We found that most glasses work best with spokes that reach 1 – 7/8 inches across. This is a good diameter for the bottom inside of a pint glass, but your glasses might be narrower. Think of what you would use to make a Swizzle. If you trim them too long, you can always shorten them later, but it's harder once they are inserted.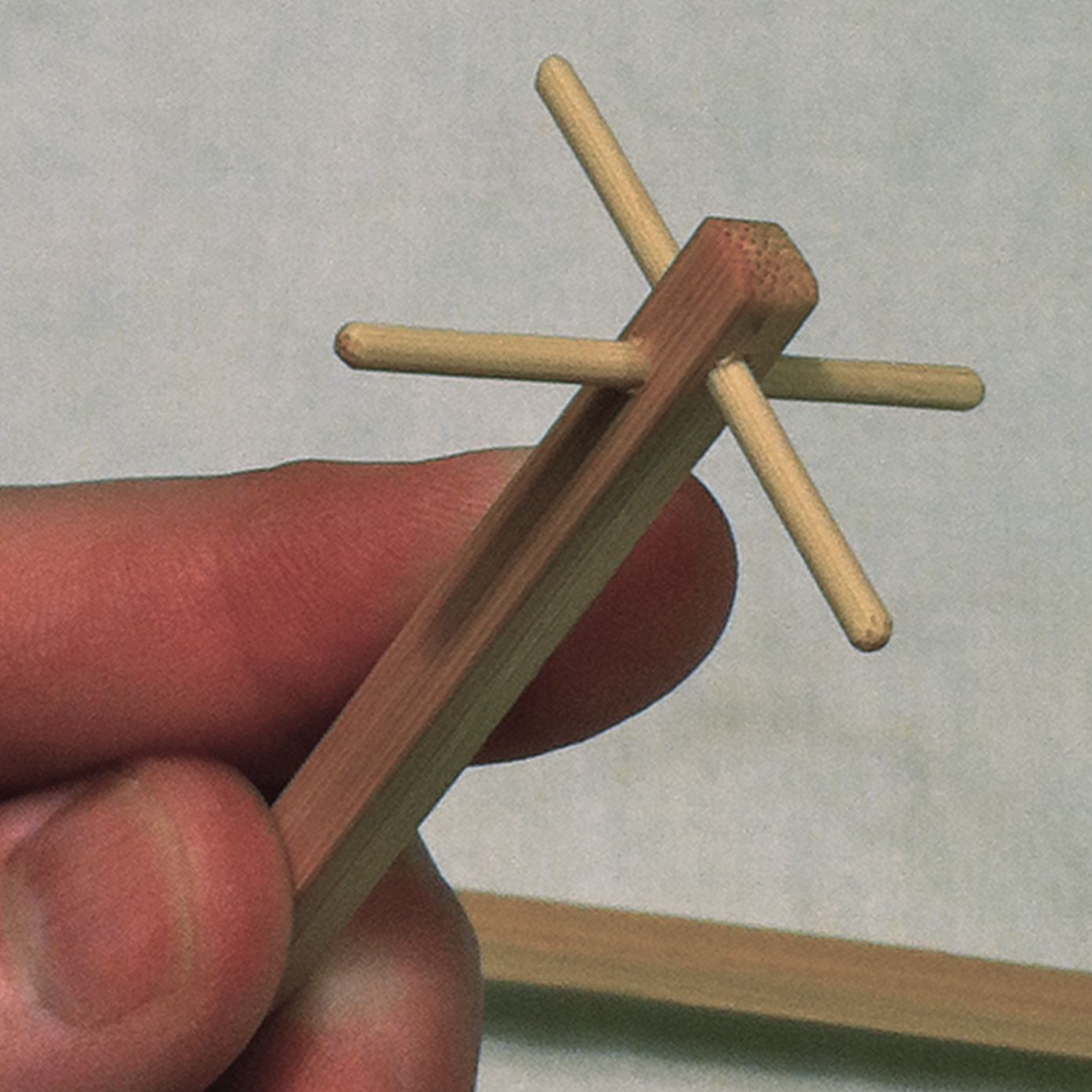 Cut your skewers with a hack saw or a wire cutter and sand the tips smooth. Then, insert them into the holes. Get them nicely centered and you are done. Well, you probably want to wash your new swizzle stick before using it, and it's smart to oil it with mineral oil to keep it from drying out. You should be doing that with your muddler and your chopping block too.
A Giveaway!
So, now that you can build a swizzle stick, what can you make with it? Well, that's coming up in Part Two as the Drink Of The Week. We will also be hosting a Swizzle Stick Giveaway. That's right. For your swizzling pleasure, there will be a drawing for one hand-made Summit Sips Swizzle Stick. The lucky winner can forget the DIY project—this excellent bar tool has already been hand-crafted using the techniques outlined above, sanded smooth, oiled, and lovingly stamped with a signature double-"S" for Summit Sips (or Swizzle Stick if you prefer). And it can be yours. Details will follow in the next Drink of the Week post. . .