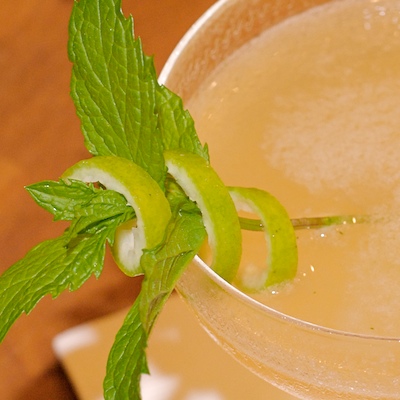 As the sun begins to set a little earlier each night and the crisp evening air becomes scented with fallen leaves, it always makes me think of ripe apples and fresh baked pies. Of course, this year the apple season came quickly, with fast spring warmth and early blossoms causing the ripe apples to appear sooner than they have in twenty years. Those of you who missed out on the SweeTango® apples during their short two-week season (there were twice as many this year than when they debuted last year) will be on the lookout next time. If you happen to enjoy apples, you might also like cider, and for those of you adventurous enough to try using cider in a cocktail, we have a suggestion for the Drink of the Week.
This year, a friend of ours passed along a tip about a cocktail contest being held by Heavy Table and local super-premium hard apple cider maker, Crispin Cider Company. After a few attempts at some interesting concoctions (one moderately successful Applejack variation on the St-Germain Cocktail) we went with a recipe that had new world flavors and some modern charm. The drink we came up with is called the Old Crispin. It's based on a cocktail created by Audrey Saunders of the Pegu Club in NYC. Her drink is the popular Old Cuban which is now a modern classic. Our take on this delicious rum-based cocktail relies on the distinctive flavors of Crispin Brut instead of champagne to enliven the other ingredients.
Old Crispin
2 ounces Crispin Brut
1.5 oz amber rum (I used Mount Gay Eclipse)
1 oz fresh-squeezed lime juice
1 oz simple syrup (1:1 ratio sugar to water)
6 mint leaves
2 dashes Angostura Bitters

Place six mint leaves in a shaker with the lime juice and GENTLY muddle—no need to grind the mint—just turn the weight of the muddler on them for a moment to release the mint oils. Add the simple syrup, rum and 2 dashes of Angostura Bitters.

Add ice and shake until chilled. Double-strain into a chilled cocktail glass. Top with cold Crispin Brut.
Garnish with a sprig of mint wrapped in a lime twist.
We just saw the results of this contest, and it looks like the Old Crispin was featured as one of four finalists and came in second place. If you check the Creative Cocktails section of the Crispin website, our creation now appears as a featured cocktail. Unfortunately, voting only lasted a couple of days, and had we known that the winner was going to be selected based on public responses on Twitter and Facebook, we might have been able to promote a little support for the recipe. In the end, the Toasty Apple cocktail won the prize. It looks like a nice drink, but it requires that you make a liqueur over several weeks which means it will be almost the end of October by the time you get to taste it. By then, you'll be reading about all of the fun and scary Halloween cocktails we have planned. Go ahead and start your liqueur for the Toasty Apple, but you can make the Old Crispin cocktail right now!