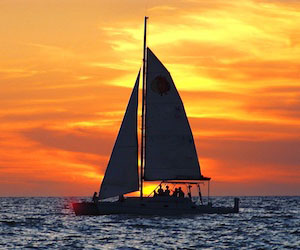 We had some fun here at Summit Sips with the last post for Talk Like a Pirate Day. I hope you all gave that one a try, or at least gave talking like a pirate a try. Pirate grog, or Bumboo is pretty basic, and it's probably easier on your throat than growling like Bluebeard all day. This week I decided to hang on to the nautical theme and feature something similar, only our Drink of the Week uses bourbon instead of rum. It also requires you to make Passion Fruit Syrup.
I've made plenty of flavored syrups in the past, but never passion fruit until recently. I could buy passion fruit syrup, but I held off because I wanted to make it myself. However, fresh passion fruit or its juice is pretty hard to find. It turns out, much of the passion fruit juice that's out there is grape or apple juice mixed with other fruits and only small fraction is actual passion fruit. In fact, I haven't seen 100% real passion fruit juice at all. I know, you are thinking that you saw some in the freezer section, but look at the ingredients—plenty of sugar and other juice, but oddly not much passion fruit.
I decided to go with one of those big drink boxes made by Ceres. At least it's 100% juice, even if it may also contain some apple or pear. Making the syrup is a matter of reducing the liquid to a concentrated form and adding sweetener. I reduced the juice to one-third its original volume, measured it, then added an equal amount of sugar.
Passion Fruit Syrup
passion fruit juice
sugar

Using the best, 100% juice you can find (fresh squeezed if available), reduce over medium low heat to one-third its original volume. Measure the amount of juice concentrate you now have and add an equal amount of sugar. Stir over heat until sugar is completely dissolved. Bottle, and preserve with a splash of vodka or neutral grain spirits.
This project turned out to be an easy process and has made a nice addition to my rainbow of little syrup bottles. You need to keep an eye on the heat as it simmers to avoid a rolling boil and risk burning the the flavor. Once you have your syrup, it's time to start making Tiki drinks. I mentioned above that we are keeping with the nautical theme, so this week I am featuring the Port Light cocktail. It's a delicious way to show off your new syrup along with a bit of grenadine (you did make grenadine a while back, right?).
The name Port Light refers to the colored running lights on seaworthy vessels. The lights help sailors identify the position and direction of other boats on the water at night. The port (or left) side of a ship is typically outfitted with a red light while the starboard (or right) side has a green one. In case you are wondering, there is a Starboard Light cocktail which substitutes Scotch for the bourbon. It was originally served in a green marine tumbler while our Port Light was served in a red one. Other recipes have also been created for the Starboard Light that include gin and crème de menthe, but we are leaning to the left this week:
Port Light
1 oz bourbon
1 oz lemon juice
.5 oz passion fruit syrup
.5 oz grenadine

Pour all ingredients into blender along with a cup of crushed ice. Blend for 5 seconds and pour it all into a collins glass, triple old-fashound, or your favorite tiki or nautical tumbler. Add more crushed ice if necessary and garnish with a sprig of mint and a cherry.
I don't think I have ever featured a blended drink on Summit Sips. If you are reading this and thinking, "of course not—why would you?" I guess I don't have a good answer, aside from the fact that this recipe comes from Jeff "Beachbum" Berry's Grog Log, and some drinks like this are best whipped up in a blender. I hesitate to make any adjustments, but I suppose you could build this in a glass to avoid working with heavy machinery. Pour your ingredients over finely crushed ice and stir it for a while to get it really cold. This will facilitate some melting and the crushed ice will break down a bit. It's not exactly what would happen in a blender, but you'll probably finish the drink before anyone notices!