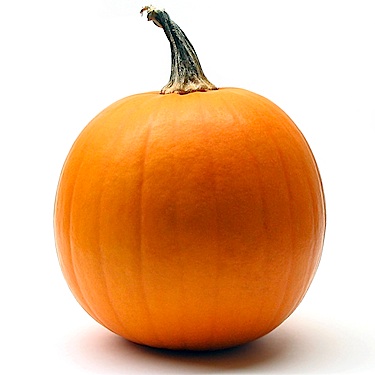 A few weeks ago, we received an email from a reader seeking ideas for a pumpkin cocktail. Kim Reynick, a friend of the family, lives in San Francisco and was putting together a cocktail menu for an upcoming event. She wanted to feature a pumpkin drink for guests. After exchanging a few emails discussing some options, she came up with a recipe that we wanted to share with everyone.
Inventing a cocktail completely from scratch can be a challenge, especially when there are specific constraints. Often, time is your biggest enemy, preventing you from testing long infusions or obtaining hard-to-find ingredients. Other times it's the guests themselves that pose the greatest challenge. You could create something mind-blowing and unique, but it has to have crowd-appeal if it's going to be a success at an event. If boozy flavor profiles, bitter aperitifs and esoteric liqueurs might alienate your guests, you would do better to reward them with something they vaguely recognize. Remember, they will be taking a chance on your creation—hopefully something they've never seen before—so it helps to have a plan that includes their expectations.
Taking everything into account, Kim came up with a fantastic combination of flavors and presentation that prominently featured the main ingredient. Since most people already know what pumpkin pie tastes like, this cocktail builds upon that notion. Why confront any preconceptions when you can use a guest's expectations to your advantage? Clearly a dessert drink, this cocktail works well for Halloween and Thanksgiving. If you decide to make it at your event, apologize to anyone who brought a pumpkin pie because everyone will want the cocktail instead!
Pumpkin Spiced Cocktail by Kim Reynick
1.5 oz vanilla-infused vodka
1 oz simple syrup
1 oz reduced pumpkin puree (see note)
.5 oz half and half
pinch of pumpkin pie spice
spiced sugar (for rimming, see note)

Rim a cocktail glass with spiced sugar and set aside. Add the vodka, syrup, reduced puree, half and half and a pinch of pumpkin pie spice to a shaker. Add ice and shake to chill. Strain into rimmed cocktail glass and garnish with a cinnamon stick.

Note: To make the reduced pumpkin puree, combine 1 tablespoon of pumpkin pie spice, 1 cup of milk and a 15 oz can of pumpkin puree in a sauce pan. Reduce over medium heat until it reaches the consistency of baby food.
To rim the glasses, use 1 tablespoon of pumpkin pie spice mixed with 3 tablespoons of superfine sugar, then moisten the rim in a plate of water and dip it into the spiced sugar.