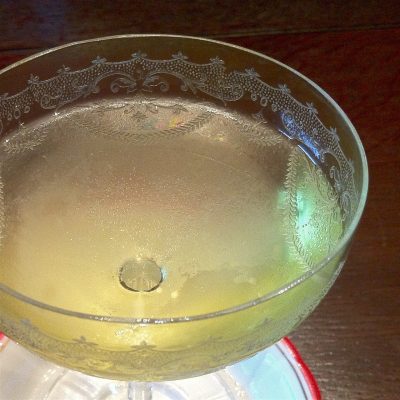 This week we are featuring a simple classic that dates at least as far back as the 1930's when it saw print in The Savoy Cocktail Book. It shows up in other notable texts as well, but its exact origin is unclear. It could have been named for the incorporation of the Alaska Territory in 1912 or maybe it dates as far back as the original US acquisition from Russia in 1867. Whatever the case, the Alaska cocktail is certainly a classic, and a largely forgotten one at that.
We can't tell you exactly why this drink takes the name of our largest and northernmost state, but the important part to recognize is that it's tasty and easy to make. Not all recipes specify the same measurements, so feel free to experiment a little with the proportions. Everyone does seem to agree that this cocktail is constructed using gin, Yellow Chartreuse and usually orange bitters.
Bols Alaska
2 oz Bols Genever (gin)
.75 oz Yellow Chartreuse
2 dashes orange bitters

Stir with ice until properly chilled and adequately diluted. Strain into a chilled cocktail glass and garnish with oils from a lemon twist (discarded).
So, if we are making the Alaska cocktail what's with the Bols Genever? Well, the regular Alaska calls for gin, but a bartender recently served this drink using genever and we loved it. So, What the heck is genever anyway?
Genever or jenever is a Dutch or Belgian spirit that was the precursor to gin. In fact, what most of us think of when we think of gin is actually London Dry gin, an English style that was a departure from its Dutch cousin. Old Tom was another type of gin that fell somewhere in the middle, lightly sweetened compared to a London Dry, but still not quite genever. Sometimes aged in wood barrels, genever has a distinct malty flavor similar to white whiskey which is no surprise since the distillate is made from a large percentage of malted grain wine. For many years, Dutch genever had been impossible to find in the US. However, Bols of Amsterdam recently reintroduced their 19th century recipe to the US market and has taken the craft cocktail world by storm.
The first time you try to use genever in a cocktail it can be hard to understand how the bold flavors will work in gin recipes that you have come to know and love. So, when we first had the Bols Alaska, it was hard to know what to expect. After one taste we knew it was worth writing about. We think it's a great combination. The bold, malty character of the spirit works well with the sweet herbal complexity of Chartreuse, and the orange bitters helps to blend the flavors together. You can certainly use a typical gin and make the regular Alaska, but this is a nice way to explore the flavors of an almost forgotten spirit.
Whether you make it with gin or genever is completely up to you. Try it both ways and see what you like best. Just make sure you give it a good stir with ice. You definitely want some dilution in this drink. Yellow Chartreuse is 80 proof even though it's very sweet, so this cocktail is as potent as the driest Martini. You could use Green Chartreuse in smaller quantities if you can't get the yellow, but know that it will change the character of the drink somewhat, and won't sit well with most cocktail geeks.