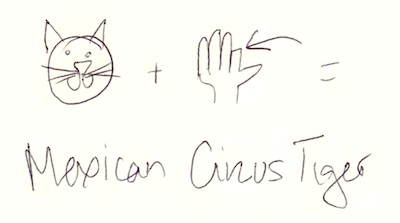 You could slap a name on any unique combination of ingredients and call it an original cocktail, but if you create something from scratch that you want people to remember, the name can be pretty important. Of course, it also has to taste good, so by the time you're ready to pick the name, hopefully you've weighed your options. Memorable drinks of the past have celebrated geographical locations, an individual's name, and even popular events throughout history. If you want the name to stick, it helps if it's accompanied by a good story. As stories go, the one behind the Mexican Circus Tiger is pretty hard to beat.
This cocktail actually has two stories—ours, and that of the cocktail's creator. Let's start with ours since it's shorter and not as intersting. A few weeks ago, we found ourselves at Beaker & Flask, a fantastic cocktail bar in Portland, Oregon. During our visit we enjoyed the company and expertise of our bartender, Emily. Early into our evening, a regular patron approached the bar and requested something he remembered from his last visit—a tequila drink called the Mexican Circus Tiger. Curious about how such a drink might be constructed, we watched as Emily grabbed a bottle of Becherovka, a Czech liqueur with an herbal cinnamon flavor. She then added what looked like juice, then a house made ingredient and a couple different spirits. We soon learned these were tequila and mezcal, grapefruit juice and the house ingredient was a type of cinnamon syrup she created using agave nectar. After pouring the drink, she gave us a small sample and we were hooked. But we just had to ask: What's with the name?
Mexican Circus Tiger by Emily Baker
2 oz blanco tequila
1.75 oz grapefruit juice
.5 oz lime juice
.5 oz Del Maguey Mezcal
.5 oz 2:1 agave cinnamon syrup (sub 2:1 agave)
.25 oz Becherovka (sub .5 oz Drambuie)
1 dash Angostura bitters
1 dash grapefruit bitters

Shake with ice. Strain into a tmbler over fresh ice and garnish with lime and grapefruit wheels.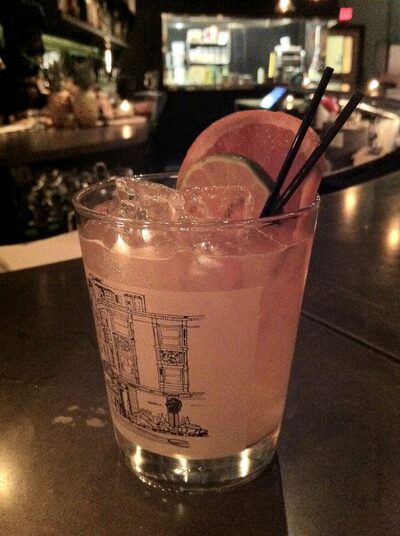 According to Emily, a friend she met in Mexico named Andy likes to drink tequila. After enjoying the circus in Sayulita (and after drinking a little tequila) Andy made his way to where the tigers where held. He bravely reached into the cage to pet one of the female tigers. That went so well he decided to pet the nose of another female. After having a tender moment with these majestic beasts, he made his way to the male tiger. In the blink of an eye, the jealous male snapped at his index finger leaving Andy with a bleeding stump!
Instead of seeking medical attention, Andy had a different plan. He stumbled into the closest bar, ordered a bottle of tequila and poured the alcohol over his missing finger. The rest of the bottle didn't go to waste. Tequila can calm nerves and sterilize wounds! With a story so fantastic and unbelievable, Emily decided to create this cocktail in his honor. We had two of them and didn't have to trade any fingertips for the recipe. She was more than willing to share it with Summit Sips readers.

We should mention a few things about the ingredients. First of all, there is the unusual Becherovka. It's a delicious liqueur with a clove-cinnamon flavor that could easliy make a great substitute in a variety of classics. It's worth tracking this down even if you just get a small bottle. To enhance that flavor element, Emily makes a cinnamon syrup using agave nectar. Agave used here as a sugar alternative pairs well with the tequila and mezcal. She starts with two cups of water and adds a stick of regular cinnamon (cassia) and two sticks of Ceylon. Ceylon cinnamon from Sri Lanka lends a sweet, delicate flavor to your syrup. Boil the sticks in the water for 5 minutes and allow to cool. Use this flavored water reduction to mix a rich 2:1 agave syrup using two parts agave nectar to one part cinnamon water.
Cinnamon goes so well with grapefruit, it's worth the extra effort to build these flavors for the final drink, but if it sounds like too much rigmarole, Emily has another variation you can make with just plain 2:1 agave syrup (use water and forget the cinnamon). This version uses .5 oz Drambuie instead of Bechrovka. Drambuie may be easier to find than the Czech liqueur and it brings its own herbal twist to the drink.
Cinnamon or not, the key to this cocktail is the mezcal. Del Maguey carries a wonderful smokiness that may surprise you when you taste it with grapefruit juice. There's no question that making this drink requires you to jump through a few hoops, but it's not as if you have to walk a tightrope or swing from the chandelier like a trapeze artist. Just be grateful you don't have to give up a finger to earn your tiger stripes!