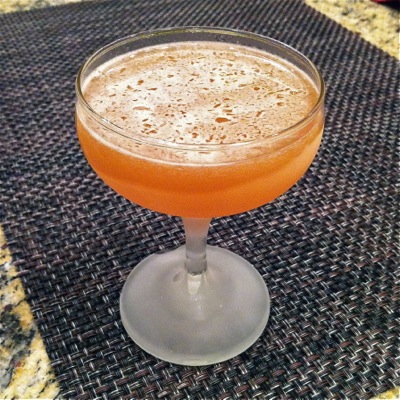 The Kentucky Bourbon Festival is just around the corner, and ever since the US Congress officially declared it as such in 2007, folks in Kentucky consider the month of September "Bourbon Heritage Month". The bill passed some years ago by unanimous consent, although we suspect it was supposed to be for that year alone. Still, the idea was meant to celebrate the 1964 Act of Congress that declared bourbon "America's Native Spirit". You could certainly argue that Applejack was distilled in America before anyone decided to make whiskey, but bourbon is by definition an American product. But there is more to the legal definition than that:
Only whiskey produced in the United States can be called bourbon.
Bourbon must be made from a grain mixture that is at least 51% corn.
Bourbon must be aged in new, charred oak barrels.
Bourbon must be distilled to no more than 160 (U.S.) proof (80% alcohol by volume).
Bourbon must be entered into the barrel for aging at no more than 125 proof (62.5% alcohol by volume).
Bourbon, like other whiskeys, must be bottled at 80 proof or more (40% alcohol by volume).
Bourbon has no minimum specified duration for its aging period, although it must be aged at least briefly. However, the following definitions and requirements apply that relate to aging periods.

Bourbon that meets the above requirements, has been aged for a minimum of two years, and has no added coloring, flavoring, or other spirits may (but is not required to) be called Straight bourbon.
Bourbon that is labeled as Straight that has been aged for a period less than four years must be labeled with the duration of its aging.
Bourbon that has an age stated on its label must be labeled with the age of the youngest whiskey in the bottle (not counting the age of any added neutral grain spirits in a Bourbon that is labeled as Blended, as neutral grain spirits are not considered whiskey under the regulations and are not required to be aged at all).
Bourbon that is labeled as Blended (or as 'a blend') may contain added coloring, flavoring, and other spirits (such as un-aged neutral grain spirits); however, at least 51% of such a product must be Straight Bourbon.
Ok, so that's a lot of rules, but you need to recognize that when these legal guidelines were established, it was so that whiskey makers interested in following them would be able to label their product as such. As a consumer, you can be sure about what goes into the bottle by simply reading the label. That doesn't guarantee you will like the result, and some very good whiskey isn't even bourbon at all. But defining a class of whiskey that is truly American not only set a standard to ensure a certain level of quality, but also established a tradition. Bourbon distilleries that exceed these standards have created some of the finest whiskey in the world.
That brings us to our Drink of the Week. Normally, if someone was looking for a bourbon cocktail, we might strike up a conversation about whiskey in general. Which bourbon? Have you considered rye? Do you like the flavor of a particular brand? Are you trying to complement the flavor of the spirit with something else? Are you thinking about going with a sweet flavor profile? Sour? Bitter? Do you want to mask the spirit or end up with something that lets its flavor come through? Then we would probably start pouring samples and everyone would forget about making a cocktail. The drink below is called a Punch, and it comes by way of Houston's Bobby Heugel, Anvil Bar and Refuge.
Wenzhou Punch

(for one) originally by Bobby Heugel

2 oz bourbon

1 oz satsuma or tangerine juice

.5 oz maple syrup

.25 oz allspice liqueur (pimento dram)

Shake with ice, and strain into a chilled cocktail glass.
If you ordered this at Anvil, you would get a quadruple recipe shaken without ice. They then pour the whole works into a bowl or carafe over a big chunk of ice. It might serve 3 or 4 guests for a while, and the dilution would happen over time. We decided to try it as a cocktail and it worked out nicely. The name comes from the Chinese city known for citrus production.
Bobby calls for bourbon, but you could use any whiskey for this cocktail. Using bourbon makes it a fine choice with the upcoming Bourbon Festival, and we thought a punch might help battle all of this heat we are having in the Twin Cities (a Mint Julep could also help). The satsuma juice here is essentially a seedless mandarin orange. If you use tangerine or satsuma juice it will come out better than if you simply use orange juice, but if oranges are all you have, we say use them. It's always nice to see maple syrup–the one syrup almost everyone has in the house, but the tricky ingredient in this mix is the allspice liqueur. St. Elizabeth Allspice Dram is getting easier to find as are other brands, and one small bottle should last the rest of your life. It's potent stuff, and a quarter-ounce is more than enough to spice up any whiskey you used. Despite being somewhat sweet, this drink goes down easy as you please.
For more information about bourbon, click here for a bunch of posts we wrote while touring the Kentucky Bourbon Trail.