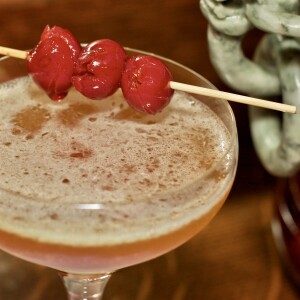 As far as we are aware, there's nothing truly oriental about the cocktail this week. It appears in the Savoy, not some asian bar manual. It is accompanied by a story that mentions the Philippines—do we really believe that? It may be an early 20th century recipe, but unfortunately it's not a very popular one. That's a shame because it's a decent drink.
We'll try just about anything that has rye whiskey, especially if it has sweet vermouth. But the Oriental also has lime and curaçao which takes the flavor in an unexpected direction. That sorta makes it a Manhattan Sour.

Oriental
1.5 oz rye whiskey
.75 oz orange curaçao
.75 oz sweet vermouth
.5 oz fresh lime juice

Add ingredients to a shaker with ice, shake and strain into a chilled cocktail glass. Garnish with a maraschino or brandied cherry.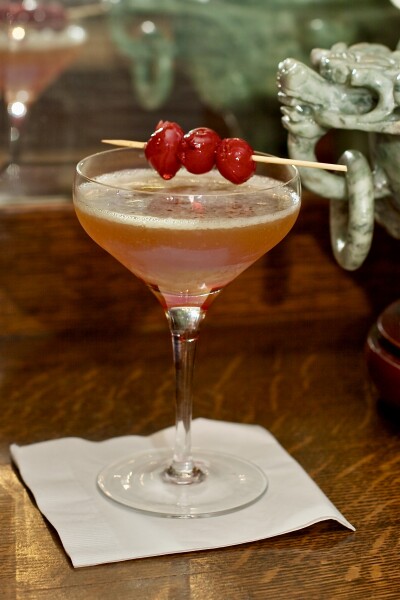 Is it perfectly balanced? Not necessarily, but you can tweak the proportions to your taste. Ours was a little on the sour side, and that's how we like it. You can adjust the liqueur or the lime if you want those flavors to stand out, or even bump the whiskey up to two ounces. However, we think these proportions work well to give equal time to each ingredient.
Like any recipe, your spirit choice will affect the result, and so will the vermouth, but there's no wrong combination. As substitutions go, you could also use Cointreau (triple sec) in place of the curaçao if that's what you have. There's even a version of this drink that replaces the rye with Irish whiskey that some people say works better. In any case, this drink is multi-dimensional and offers a lot to enjoy.
Sometimes, we are in the mood for a spirit-forward cocktail like a Manhattan, and other times we prefer sweet and sour citrus. Here, you have both. Using your own cocktail cherries for the garnish is always a good idea. We also read that some folks like to spoon a little of the cherry syrup from the jar into the cocktail glass to give it more color contrast at the bottom and a sweeter finish. It's a nice touch.