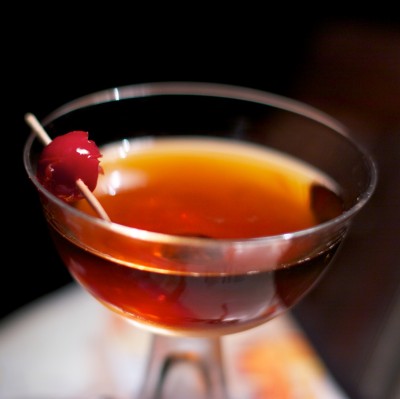 There's a reason we have so many delicious cocktails that are related the the Manhattan. Because of its simplicity, the Manhattan formula lends itself to a variety of substitutions that can transform what is already a perfect classic into something unexpected and wonderful. It doesn't happen every time, but when it does, it's worth the effort. Here's one example. When it was first created by Vincenzo Errico in 2004 at Milk & Honey in New York, the Red Hook which is named for the New York neighborhood of the Brooklyn borough quickly spun-off a number of variations from its admirers.
A Manhattan is typically two parts whiskey and one part sweet vermouth. It's fair to say that the vermouth is the dominant flavor. Instead of vermouth, the Red Hook calls for the complex and bitter Punt e Mes. Even at half the volume, Punt e Mes exerts its personality on the drink, but it is also transformed by the sweet, pungent flavors of maraschino. If you haven't yet added Luxardo to your cabinet you are missing one of the great liqueur flavors of classic mixology. The combination of this bitter substitution and the sweet liqueur fills any gaps left in the absence of vermouth. It's using the Manhattan formula and really taking it somewhere.
Red Hook by Vincenzo Errico
2 oz rye whiskey
.5 oz Punt e Mes
.5 oz maraschino liqueur

Stir with ice, then strain into a chilled cocktail glass. Garnish with a cherry.
Continuing our Manhattan comparison, for the base spirit you would have traditionally used rye whiskey. Rye's extra spiciness works well to poke through and stand up against the complex herbal flavors of vermouth. So too does rye meet the challenge in the Red Hook. Many recipes cite Rittenhouse 100 proof bonded rye as a good choice and we would have to agree, but we had no problems using Templeton—except that our supply is now dwindling. Could you substitute another whiskey? Probably, and there's no shame in doing so. Jamie Boudreau is even using white dog and aging the whole works in barrels. It's one more testament to the resilience of the Manhattan formula and to this variation.
In the final assembly, this drink should be stirred. If you have ever shaken a Manhattan, shame on you. Ok, that's harsh, and your abuse doesn't affect the flavor, but you should take advantage of opportunities to preserve the clarity of an all-spirits recipe and showcase the gem-like quality by stirring. Shaking may cool a drink faster, but it will also introduce tiny bubbles resulting in an unattractive layer of foam on the surface and a cloudy appearance, not to mention tiny ice shards floating around. It may not matter with drinks that use citrus, but for our Red Hook, crack a few cubes and stir to chill.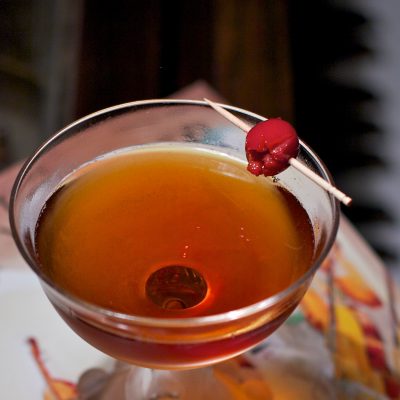 One of the reasons we love a recipe like this is because it starts out in familiar territory then takes you in a direction that is both interesting and delicious. It's also easy to make because you don't have to worry about fresh fruit or bitters. Punt e Mes isn't that difficult to find, and once you do, you won't have any trouble using it in substitutions and variations of other cocktails that call for vermouth. Luxardo Maraschino will lead you to plenty of other favorites too. As for the variations on this drink, several exploits include subbing Yellow Chartreuse for the maraschino. That's a good drink right there, but some will go further by swapping the Punt e Mes for a combination of Carpano Antica and Fernet Branca. Maybe we will have to explore those variations soon. In the mean time, Give the Red Hook a try. If you are a Manhattan lover, wander over the bridge and hang out with this variation for a while. You'll be happy you did!
Also, try the the Greenpoint, and the Bensonhurst which are also Brooklyn variants and wonderful cocktails in their own right.