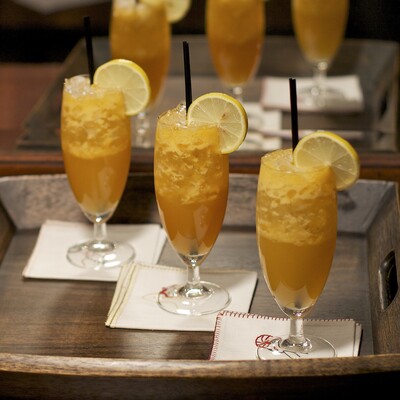 This Drink of the Week week is actually three drinks in one. The Eastern Sour is the first of a small family of sour cocktails invented by none other than Trader Vic, one of the founding fathers of the mid-century Tiki movement. Although it isn't as complex or as difficult as many Tiki drinks, for some people that's not necessarily a bad thing. The more ingredients—or often, the more obscure the ingredients—the less likely most folks will be able to execute the recipe. At least that was our theory as we looked for a tropical style drink to post this week. We needed a change from all of the Manhattan variations we have been posting.
Our source of reference is a groovy little iPhone/iPad app called Beachbum Berry's Tiki+. This app was developed with the full endorsement of Jeff "Beachbum" Berry and it's filled with recipes that appear in several of his great books. Berry is widely respected as the most significant Tiki cocktail historian alive today. We are not usually raving about technology on Summit Sips, but if you are ever looking for a decent app that focuses on honest, tried and true Tiki recipes, look no further. Having it in your pocket makes for a handy reference, but you can also find everything your Polynesian heart desires in Beach Bum Berry Remixed.
Now, we could have picked anything from this treasure trove—there certainly is a wide variety from which to choose. Some are tropical favorites while others showcase exotic juices and syrups. But as we read through the recipes we realized that not everyone will be able to make many of these without tracking down one or more special ingredients. So, we started looking for drinks with more typical components, and that's when we noticed some repetition among a few of the recipes credited to Trader Vic. Victor Bergeron, as you may recall, invented the Mai Tai (or at least he invented one of the more famous recipes). His Eastern Sour seemed to appear under three different names—each with it's own base spirit.
Eastern Sour
2 oz bourbon or rye whiskey (or. . .)
2.5 oz orange juice
.75 oz lemon juice
.25 oz orgeat syrup
.25 oz simple syrup

Add ingredients to a shaker. Add 1 cup of crushed ice, shake to chill, and pour the entire contents (unstrained) into a double old fashioned glass. Garnish with the empty shell peel from a lemon and orange.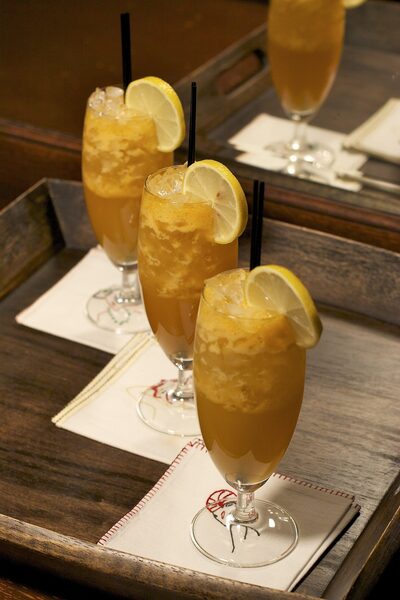 It's not a rum cocktail, although many Tiki recipes are. It doesn't use unusual fruit juices—just lemon and orange. About the only challenge you might face is the orgeat syrup, but these days, even that isn't very hard to locate. In fact, it may be high time for you to make your own. The simple syrup is just 1:1, so this is about as straightforward as it gets. You'll need to crush six or seven ice cubes, but it's worth it. And remember, we actually have three drinks in one. By swapping out the American whiskey for another spirit, the drink transforms slightly. Try it with Scotch and the name becomes the London Sour. Swap it with brandy/cognac and you just made a Munich Sour. All three recipes call for the same presentation: sink the half-shells of the citrus into a double old fashioned glass. We opted for a lemon wheel and served them in these lovely goblets.
Admittedly, this isn't the most complex set of flavors, especially when it comes to Tiki drinks, but it is authentic. The Eastern Sour appeared sometime in the 1950s with the London and the Munich variations coming in consecutive decades that followed. If you enjoy a refreshing sour this one certainly satisfies. It's an easy drinker, no question about it, but which one should you make? After trying all three, we decided that the Munich was our favorite, but we should mention that we cheated a little and used tangerine juice. Still, even with that adjustment, the only difference between our Eastern, London and Munich Sours was the base spirit. We do like the London for what it is. It's hard to pass up a cocktail that contains Scotch because there are so few. After sipping the London, then switching to the Eastern, we wondered if we had made the wrong choice. Aw heck, they are all good!