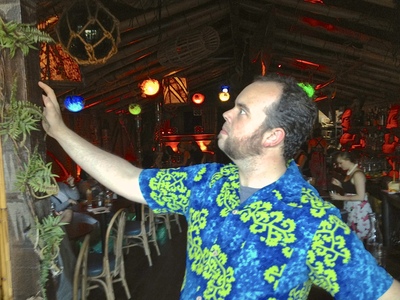 There's a new Tiki bar in Portland, Oregon that just opened on NE Broadway called Hale Pele. It's in the space previously occupied by Thatch, for those of you who know the area. This bar is the brainchild of Blair Reynolds, (formerly AKA "TraderTiki"). Reynolds is definitely a veteran of Tiki culture as well as a celebrated professional in the world of bartending. In addition to collecting various honors, accolades and published references, his skills as a tropical drink maker and dedication to quality ingredients led to the creation of his own brand of cocktail syrups. The B.G.Reynolds' line includes everything from cinnamon to vanilla, and practically every other Tiki syrup you will ever need.
We visited Hale Pale the first Friday of their opening last week and had a lovely time. The space is cozy, filled with warm, natural Polynesian decor represented by carved tribal totems and bamboo. The authentic puffer fish light fixtures and glass fishing buoys look right at home next to the Hawaiian outrigger canoe hanging from the ceiling. Even Mr. Reynolds himself was on hand to answer questions. One unusual feature was the bar itself. The bartop sits slightly lower than most bars, but this is due to what appears to be a raised wooden floor in keeping with the decor. The affect is subtle, whether deliberate or not, but we absolutely loved it. The staff remains at optimal height, so you could say that it as something like a "sunken" bar work area. There's definitely something to be said for settling down to a bar as opposed to climbing up to it. It has a calming effect like being accepted into an unusual cultural experience.
All told, the atmosphere is perfect for what is being served. The cocktail menu reads like a hit list featuring no less than twenty Tiki specialties. Many of these are authentic vintage recipes with more ingredients than most of us have time to worry about. Drinks are obviously mixed freshly-squeezed and plenty of attention is given to decorative garnishes to complete the picture of perfection.
We tried the 1934 Zombie and the original Mai Tai, followed by some jokes about taking the outrigger canoe down from the ceiling and giving it a test drive on the Willamette (Note: two Zombie limit per customer). We enjoyed some delicious Hawaiian bread with guava jam while we contemplated our second round which included the Jungle Bird and the Pieces of Eight cocktail featured below.
Pieces of Eight
1.5 oz Puerto Rican rum
1.5 oz lemon juice
.5 oz lime juice
1.5 oz passion fruit syrup

Shake with 4 ounces of crushed ice, pour into a tall cocktail glass, top up with more crushed ice and garnish.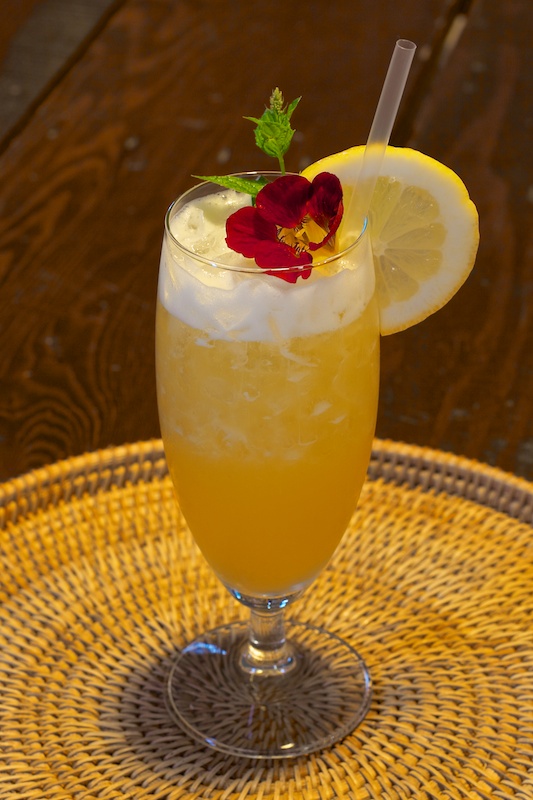 This beauty is described on the menu as "Tall, Tart, and Lovely." There's a lot of citrus in this one, balanced by a hefty amount of passion fruit syrup, but good passion fruit should have a tang that outshines its sweetness. In other words, the drink retains a wonderful sour kick. You can make your own passion fruit syrup as we have in the past, but try to use real fruit puree for the best flavor. This can be difficult to find, so we recommend that you simply grab a bottle of R.G.Reynolds' Passion Fruit Syrup and save yourself a lot of trouble.
You can get pretty creative with the garnish as often happens with elaborate Tiki cocktails. The term Pieces of Eight is often associated with the popular notion of pirate treasure but is technically a reference to the old Spanish dollar which was equal in value to eight reales. The coin itself could be cut into eight wedges or "bits" and was the model upon which the US dollar was based. As such, garnishes for this cocktail sometimes include citrus wheels to represent the coin or even eight triangular pineapple wedges skewered and grilled to give them a "tarnished" appearance. We decided not to wait for the grill to heat up and went for a colorful alternative that included a lemon wheel, a mint sprig and a nasturtium blossom.
We'll definitely be back to Hale Pele to enjoy cocktails we don't often get to make at home. Boasting a full assortment of spirits and nice selection of food, there's plenty to love here beyond Tiki. And if Tiki is your thing, why would you go anywhere else?