It's that time again when the masters of fruit preserves and culinary syrups gather their "citizens" for another quarterly Cocktail Club. When Republic of Jam puts on an event, it's sure to include an assortment of flavors to delight your tastebuds. This was no exception, and once again, we were invited to lend some creative cocktail ideas to the evening. One of the challenges we learned from last time was the fact that cocktails mixed in batches are served en masse and have to be prepared differently. Because all of the drinks get served as small samples on the rocks, none of them go through the typical construction process of shaking with ice. Proper dilution is normally a helpful byproduct, so we needed to take that extra water into account. By making these individually, you also have the flexibility of glassware choices and creative flourishes with the garnish. As you will see below, one of the drinks is a perfect candidate for a sugar rim that adds a thoughtful touch (if not a traditional one) that also helps reinforce one of its primary flavors.
The theme of the evening was Irish Scallywags—an appropriate choice considering St. Patrick's Day. We tried to name our drinks accordingly, starting with:
Lie Cheat and Steal
2 oz Bols Genever
1 oz Republic of Jam Pear Lemon Rosemary Culinary Syrup
.5 oz lemon

Shake with ice and strain over fresh ice in a rocks glass. Garnish with a sprig of rosemary.
Pear flavor, especially when it's natural and delicious like it is in this culinary syrup, presents a challenge for the mixologist choosing a base spirit. One option is to use vodka, knowing that its neutrality won't interfere. The better option is to use gin which almost magically enhances the other flavors with floral intensity. We took that idea one step further and used Genever, the Dutch predecessor of modern gin. We know, it's not Irish, but the malty flavors that are somewhat reminiscent of whiskey meld beautifully with the pear making this challenge one of our favorites of the evening. Of course, if you cannot find a bottle of Bols Genever, use gin, but it's worth the extra effort and expense.
Rhuthless Redhead
2.5 oz vodka
.5 oz lime juice
.25 oz Republic of Jam Strawberry Lime Culinary Syrup
.25 oz Republic of Jam Rhubarb Lime syrup

Shake with ice and strain into a chilled cocktail glass. Hang a lime wedge or slice of strawberry on the edge of the glass for garnish.
Born in Ireland in March of 1702, red haired Anne Bonny had a fiery personality. At thirteen she supposedly stabbed a servant girl with a table knife and when her father disowned her, she allegedly set fire to his plantation. She went on to become a notorious Pyrate. And what would any Irish lineup be without at least one notorious redhead? Keen observers may recognize this as a shortcut version to the Strawberry Barb cocktail which we are inclined to rename now that we know what to call it.
Seven Tears
2 oz vodka
1 oz Republic of Jam Lavender Lemon Culinary Syrup
.5 oz fresh lemon juice

Shake with ice, strain into a lavender sugar-rimmed cocktail glass.

To make lavender sugar: Pulse one tablespoon of lavender buds in a food processor or spice grinder. Add one-third cup of sugar and pulse a few seconds more to combine.
The next drink was a popular favorite of the evening although some guests described it as being overly tart. The Lemon Drop cocktail on which this lavender variation is based is known for its tear-inducing sour intensity, but as you will see, we can help balance the effect using a lavender sugar rim.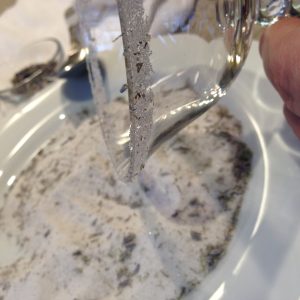 The sugar-rimmed glass pictured here can have a dramatic effect on the final flavor. Drag the cut side of a lemon around the outside rim of the glass and dip the edge into the sugar, pulling it back as you go. It only takes a moment to do this and you will have a faintly pink sugar coating with tiny bits of freshly ground lavender sticking to just the outside of the glass. We will often leave a gap to give guests the choice, but we do keep the inside rim free of sugar to avoid a sticky mess that will change the flavor whether you want it to or not. You can obviously adjust the amount of lavender to suit your taste. The aromatized sugar will scent each sip while it balances the lemon intensity.
Set the glass aside to dry (or better yet, put it in the freezer to chill) while you mix the drink. You could also use a lavender infused vodka like we have in the past which can really help enhance the color of the drink, but flavored syrups save time and trouble. Once strained into your rimmed glass, you have a fantastic presentation that your guest will smell and taste as they sip the Seven Tears cocktail. According to Irish myth, shedding seven tears into the sea will summon a selkie—a seal-like creature that sheds its skin and takes on a seductive human form while on land.
Colonel Blood
3 oz Cabernet, Rioja, or any red wine
1 oz Republic of Jam Cranberry Orange a Ginger Culinary Syrup
.5 oz lemon (or less to taste)

Shake with ice, then strain over fresh ice in a rocks glass. Garnish with several drops of Angostura bitters
Our fourth cocktail of the evening was a blood-red sangria named for Colonel Thomas Blood, an Irish scoundrel best known for his attempt to steal the Crown Jewels from the Tower of London in 1671. The Cranberry Orange Ginger seemed almost ready-made for a shortcut sangria. We found that adding a touch of spice helped bring all of the flavors together. It only took a few drops of Angostura to garnish the surface of this drink and transform the flavor, so we had some fun with a before-and-after technique to talk about the importance of bitters in cocktail recipes.
Peg Leg
1.5 oz gin
1 oz Republic of Jam Blueberry Lemon Culinary Syrup
.5 oz lemon juice
2 dashes Angostura bitters

Shake with ice and strain into an ice-filled rocks glass. Optional: Garnish with a wooden peg (small bamboo skewer).
We couldn't help adding bit of pirate-speak to the evening with a drink named after an iconic patched and parroted deck-knocking amputee! It may sound a bit silly, but this is a fantastic cocktail that is both simple and delicious. We'll have no problem using our Blueberry Lemon syrup to make these over and over again. Gin works its magic here too by promoting the blueberry instead of obscuring it, and a little extra lemon juice balances the sweet and gives the whole drink a nice zing. This syrup will be wonderful on pancakes the next morning too!
Clover Club
1.5 oz gin
.75 oz lemon juice
.5 oz Republic of Jam Spiced Pomegranate Culinary Syrup
1 egg white

Add ingredients to a shaker without ice, seal and shake very hard for 25 seconds. Add ice and shake again 10 seconds to chill. Strain into a chilled cocktail glass. Optional: Garnish with mint and it's called a Clover Leaf.
The Clover Club was the final drink of the evening. It's a pre-Prohibition cocktail named after the Philadelphia Men's club of the era. Given the Irish theme, clovers seemed appropriate, but we really wanted to see if it was possible to succeed with an egg-white cocktail in this setting. Most guests loved it, and many called it their favorite of the night. This cocktail is also somewhat flexible. It's traditionally made with either raspberry syrup or grenadine, so the Spiced Pomegranate fit nicely. You could just as easily substitute white rum instead of gin to make another egg-white classic called September Morn.