This past weekend we were invited to participate in the quarterly Cocktail Club at Republic of Jam. Being asked to contribute recipe ideas was an honor, and it was even more exciting to be there to answer questions and provide details about each drink. Citizens in attendance were genuinely enthusiastic about the whole process. Many had questions about everything from ice options to spirit suggestions. It was a joy to see so many people excited to participate.
Each of the recipes were made in large batches and poured over ice to make service fast and smooth. This was a smart choice given the sample size of each drink, but if you make some of these yourself, follow the directions. Some of these drinks are designed to be served up, in a stemmed cocktail glass (chill glasses in the freezer ahead of time and serve without ice). Good shaking action with lots of ice in the shaker to achieve proper dilution and chill are important goals in almost any recipe, but so is understanding the importance of compromise at an event when shaking five individual mini-drinks for every guest is just not practical.
Since the whole point of Cocktail Club is to demonstrate how Republic of Jam ingredients can work in culinary cocktail recipes, the details below make reference to a bunch of different products. We encourage locals and visitors to check out the Carlton, Oregon shop or pick up items from their online store to try these recipes. As a last resort, feel free to experiment with substitutions as you see fit, and as always, adjust the balance of sweet and sour to your taste.
The the cocktails we created are each named according to the theme for the evening which was fairy tales and fables. We "kicked off" the event with the Glass Slipper, an homage to the Epiphany cocktail that leverages Pear Brandy Culinary Syrup in lieu of pear-infused vodka. It also features St-Germain, the darling of modern liqueurs:
Glass Slipper served on the rocks for the event

Glass Slipper
2 oz vodka
.5 oz RoJ Pear Brandy Culinary Syrup
.5 oz St-Germain elderflower liqueur
1.5 oz dry sparkling wine or champagne

Add all but the champagne to a shaker with ice. Shake to chill. Strain into chilled cocktail glass and top with champagne. Garnish with a slice of pear.
Next, we tried the Cheshire Grin. This is actually a tiki creation featuring Orange Mango syrup. The Orange Mango reminded us of passion fruit—an ingredient that is quite popular in the tiki cocktail genre. We were inspired by the Port Light which mixes passion fruit syrup with grenadine. Mango is the prominent flavor here supported by the orange, and the Cherry Pinot adds depth and dimension. This one also works with Cherry Vanilla syrup, although you should reduce the amount to prevent the vanilla from taking over. The garnish is optional, but typical of this style.
Cheshire Grin
1.5 Puerto Rican white rum (Bacardi)
.75 oz RoJ Orange Mango syrup
.50 RoJ Cherry Pinot Syrup
.5 oz lime juice

Shake with crushed ice, then pour unstrained into a Tiki mug, or tumbler. Garnish with a slice of orange, cherry and a sprig of mint.
Our third drink of the evening was called The Eighth Dwarf. This unique concoction should be served in a chilled goblet. It's modeled after the Corpse Reviver #2 with the featured syrup taking the place of Cointreau as the sweetener. It also switches out gin for a base spirit that's a bit more interesting. You don't need a magic mirror to tell you that white whiskey is the fairest of them all, but in addition to being colorless, un-aged whiskey often has a malty flavor that reminds us of Dutch genever—the predecessor to modern gin.
The Eighth Dwarf
.75 oz RoJ Spiced Quince syrup
1 oz lemon juice
1 oz Lillet Blanc
1 oz "Snow" White Whiskey (House Spirits)
Dash absinthe

Shake with ice and strain into chilled cocktail glass. Garnish with a twist of orange peel.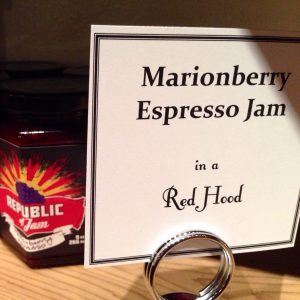 We used House Spirits White Whiskey when we came up with this recipe, but for the event we tried Sweet Baby Moonshine and demonstrated that even though there are differences among brands, the unique character of the spirit still makes for a successful combination.
In our last post we featured the Red Hood and it remains our favorite of the evening. Marionberry Espresso Jam is fascinating and unique, and worth trying for its own sake. Mixing jam in a cocktail presents a challenge to extract the most flavor. Shaking with ice cubes creates a pulverizing action that "muddles" the thick jam and helps bring out its flavor. You'll want to double strain through fine mesh to remove any leftover bits and seeds. Serving it in a cold cocktail glass instead of on the rocks also keeps the dilution stable so that each sip continues to confirm how delicious it is. If budget isn't a concern, Redbreast Irish whiskey is perfect in this drink because it adds depth and character without overpowering.
Red Hood
2 oz Irish whiskey (Redbreast)
.5 oz sweet rosso vermouth (Cinzano)
.5 oz lemon juice
.25 oz Fernet-Branca
2 tsp RoJ Marionberry Espresso jam

Shake with ice and double-strain into a chilled coupe. Garnish with a marionberry or espresso bean.
Once we reached our final cocktail, it was time for a winter warmer. Happily Ever After was the perfect endpoint. The grated cinnamon seems like an easy item to skip, but don't do it. We know it added an extra step during service but the aromatic element really helps tie everything together. After tasting and smelling the intense apple flavor during the event we decided to rename this drink:
Appley Ever After
2 oz RoJ apple lemon ginger syrup
2 oz cognac (Pierre Ferrand)
4 oz very hot water

Add syrup and cognac to a pre-warmed glass, top with the hot water and garnish with freshly grated cinnamon.
We truly had something for everyone at this event. There were several guests who thought the first cocktail of the evening, the Glass Slipper was their favorite. Light, aromatic and bubbly, it set the stage for the celebration to come. Others enjoyed the Cheshire Grin for its balance and boldness. The Red Hood gave those seeking flavors deep and wonderful something to ponder while the Eighth Dwarf enlivened our senses with tart and spice. And who could deny the soothing warmth of a delicious toddy on a cool foggy evening? All told, it was a fantastic event and we hope everyone had a good time.