We expected great flavors from cocktails in Maui during a recent trip to the island. Given the fact that they have such ideal growing conditions for fresh ingredients, we were hoping for wondrous citrus, pineapple and coconuts, or muddled passion fruit and mangoes. At the very least, we thought we would find a decent tiki concoction. But like many tourist destinations, the resorts (at least in West Maui) are setup for high-volume service for vacationing beach bums and sun bunnies not discerning cocktail enthusiasts. Sure, you can order a Mai Tai, but you don't really know what you are going to get. Most of the time it's sugary mixers and rum. Nobody seems interested in geeking-out with bartenders crafting world-class drinks. Some restaurants still loosely throw around the word "Martini" to describe their ridiculous list of vodka-based sugar-blasts. Visitors seeking spirit-driven classics can forget it. Italian bitters are also practically nonexistent. And even if a recipe does include fresh ingredients, any balance you would hope to find among the sweet and sour is usually lost with your misrouted luggage.
It doesn't sound pretty, but this is still paradise (with a Costco). The beaches are among the best in the world, and any fool can grab a bag of limes, sugar and a bottle of local rum to whip up some mighty fine Daiquiris to match the spectacular views. So, for the home mixologist, conditions are absolutely ideal. There must be more to local cocktail culture than this. After a little research we found a local distillery, Ocean Vodka. They had recently sponsored a food and drink contest and charity event this past April at the Sheraton Maui Resort & Spa. The winning cocktail recipe was added to the resort's beverage menu for one year and every drink sold will bring a $1 to the Make-A-Wish Foundation. Now, we were getting somewhere! We decided to head over to the poolside Black Rock Lounge to see if we could try it. At last, we were on our way to some Hawaiian craft cocktail culture.
The winning drink is called the Poi Dog, and it was created by Ross Steidel of Lahaina. In addition to sporting an impeccable mustache, Steidel is the founder of The Perfect Pour Maui, a cocktail catering service that puts everyone else on the island to shame. This is the exactly what we were hoping to find here. It is a fancy riff on the Greyhound or Salty Dog, and although it may be better-suited for spring sipping, we like the refreshing reminder of beaches and sun all year long.
Poi Dog by Ross Steidel
1.5 oz vodka
2.5 oz pomelo or grapefruit juice
.75 oz Thai basil and black peppercorn syrup (see below)
.25 oz yuzu juice
.5 oz lemon juice

Add ingredients to a shaker with ice and shake to chill. Strain over fresh ice in a Collins glass rimmed with kosher salt and black pepper. Garnish with a sprig of basil and grapefruit wheel.

Thai Basil and Black Peppercorn Syrup
1 T whole black peppercorns
.5 T cracked peppercorns
7 sprigs of Thai basil
1 cup sugar
1 cup water

In a saucepan, roast 1 tablespoon of whole black peppercorns + .5 tablespoons of cracked peppercorns over high heat for 6 minutes (until aromatic). Add 1 cup of water + 1 cup of sugar. Stir, bring to a boil, let cool. Add 7 stems of Thai basil, rest overnight. Strain syrup to remove peppercorns and basil.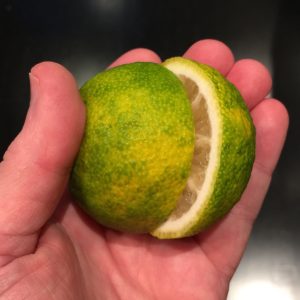 If anything poses a problem for this recipe it's the yuzu citrus. Yuzu is related to the mandarin but has a tart flavor like grapefruit and it is very aromatic. It is small like a lime, often with bumpy skin, and can be somewhat difficult to find. We found ours at an asian market in Portland, but it was expensive (a single yuzu was $6.75) You don't need much-and you won't get much juice anyway-so if you cannot find yuzu, sub more lemon juice.
You will also need to plan at least a day ahead of when you want to drink it. It's fun to build a little suspense for a delicious cocktail, but in this case it also requires you to make an interesting syrup. Hopefully, you take cooking as seriously as you do drinking and you have some whole peppercorns on hand. Crack some of them as indicated using a mortar and pestle or give them a coarse grind. Roast them and mix up your syrup, adding the Thai basil to complete the recipe (you could sub regular basil but the flavor isn't as pronounced).
Finally, grind some fresh pepper into a small bowl of salt and use a wedge of lemon to moisten the outer rim of your glass before tapping it into the bowl. We like to rim half of the glass to give guests the option to skip the salt. Although a Collins glass is specified, a medium tumbler is easier to sip, and when you do you will experience the best drink we had in Maui. The bold citrus is balanced by a black pepper sweetness, but this 1:1 syrup has just enough sugar to tame tame the sour while adding its own unusual flavors that you don't often find in a cocktail. We can't wait to use our leftover syrup in other recipes. The grapefruit is obviously prominent here, lending a slight bitterness to the overall flavor profile-and we like white grapefruit better than ruby for this one. The basil is also a major player, so if you like the Gin Basil Smash (and why would't you?) then you should definitely try this vodka drink.