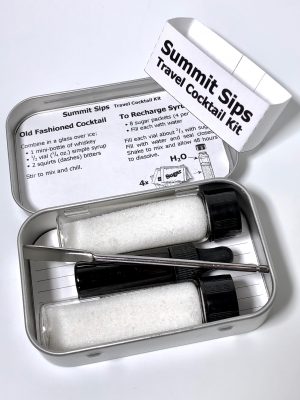 Here's a great gift idea for anyone that travels, especially during the upcoming holiday season. We call it the Summit Sips Travel Cocktail Kit. It has undergone some improvements after being thoroughly field tested, and although you can make one yourself, we decided to save you the trouble. The Summit Sips Shop has these in stock while supplies last.
The Summit Sips Travel Cocktail Kit is a compact, TSA-passable cocktail making kit designed to be included in your carry-on baggage for use aboard airplanes. It is the size of an Altoids tin and it allows you to make four (4) Old Fashioned cocktails with ease.
Complete instructions are always handy inside the lid of the kit.
How to use the kit:
Two clear vials are 2/3 filled with sugar. A day or two before you travel, add water to the sugar to fill completely. Give the sugar and water a shake to eliminate air bubbles and get it to dissolve. Top off with water if needed, put the cap on, and in 24-48 hours you will have 2 vials filled with rich simple syrup!
Pack the kit into your 1-quart zip-close plastic bag for TSA inspection. While in-flight, order mini bottles of whiskey and a glass with ice from the flight attendant. Use the kit to construct up to four (4) Old Fashioned cocktails (each syrup vial is enough for two cocktails). Add simple syrup and two full droppers of bitters to your glass of ice, add the whiskey and stir with the included spoon to chill. Voila! A craft cocktail that will be the envy of other passengers!
Recharge the sugar vials when you reach your destination. You will have plenty of bitters to make four more cocktails on your return flight (and you can refill the bitters bottle when you get home).
This kit is an improved version of the one originally described as a DIY proof of concept here:
Travel Cocktail Kit. It includes the two 1/2-ounce vials for simple syrup to make four drinks. We also include a customized stainless steel spoon that is cut perfectly to size and polished so there are no sharp edges.
Depending on inventory, we may have more than one version of the kit in the store. Check descriptions and detailed images for information about the spoon and colored bitters vials. Happy Travels!