It's a question we get asked every year: What cocktail should I feature at my Halloween party? There are a lot different answers depending on what is important for your situation. We usually answer with a series of questions. How much work do you want to do ahead of time? How much work do you want to do during the party? Do you want to make something spirit-driven or citrus-based? How important is it for your theme to be represented (either in name or ingredients)? Your answers to these questions can be determining factors, so here's a list of possibilities with summaries and links to the specific details.
Batches and Bowls
We usually always refer folks to large-volume solutions like Punch, Sangria, and Morganthaler's Gallon of Margaritas. We covered all of these in this post back in January. Even if none of them are for you, it's a good source of tips on taking single-serving recipes and turning them into larger batches. Such techniques will come in handy for any recipe, especially if you don't want to miss your entire party mixing cocktails for everyone else.
Autumn Themed
Even though our red basil is looking better than ever and our mint is still going strong, not every fresh ingredient is at its peak right now. The best citrus won't be here until the winter months, but the apples are easy to find at farmer's markets now. An easy, virtually unknown recipe is the Apple Smash. This simple rum-based drink is a great way to use potent or sour baking apples. You need to do a little muddling and use crushed ice, but perhaps a blended version in bulk would be worth trying.
You can often find fresh cranberries in markets now too, so making the Boston Bog is a delicious option. Muddling cranberries or apples can be a fun way to get your guests involved with the process of making their own drink, but these tasks can also be handled ahead of time.
Let's not forget pumpkin and spice! While the flavor can get overplayed (especially when it comes to ridiculously sweet coffee shop drinks) there are ways to incorporate pumpkin into a cocktail. Some years back we featured a Pumpkin Spiced Cocktail created by Kim Reynick of San Francisco. It's certainly not for everyone, but if your cocktail idea simply must have pumpkin flavor this recipe will meet the need. It's usually the spice that carries most of the flavor, so you could also explore just about anything that features pimento (allspice) dram. The Lion's Tail and the Ancient Mariner are both excellent examples that already sound like Halloween costume ideas. Finally, a fantastic riff we picked up from Erik Hakkinen of Zig Zag Cafe in Seattle features a splash of allspice liqueur in a Dark and Stormy cocktail which, with the right rum (we like this allspice version with Smith & Cross Jamaican), transforms it into a spicy thirst quencher.
You could also make a variation on your favorite Old-Fashioned by using a little allspice dram, some Becherovka, or by changing up the bitters. Fee's Barrel-aged Bitters has a lovely spice character as do many other aromatic brands. Look for something with cinnamon or nutmeg (or simply add some cinnamon or nutmeg) to spice up an old recipe.
Spooky Names
We are covering a lot of options, but sometimes you want a cocktail to just sound scary. There are several authentic classic recipes as well as a few contemporary ones that will work. We will start with our favorite which is also the most challenging. The Zombie (the authentic 1934 recipe) is probably the most complicated drink you'll ever try to make. There's an easier version linked below, but if you are feeling adventurous and have time to make a bunch of homemade ingredients:
Zombie (1934) by Don the Beachcomber
6 oz crushed ice, plus extra to fill glass
.75 oz fresh lime juice
.5 oz fresh grapefruit juice
.25 oz cinnamon syrup
.5 oz falernum
1.5 oz Puerto Rican gold rum
1.5 oz aged Jamaican rum
1 oz Lemon Hart 151 Demerara Rum
1 tsp grenadine
1 dash Angostura bitters
6 drops Pernod or Herbsaint

Add the ingredients to a blender and blend until slushy, about 2 to 3 seconds. Pour the contents into a tall zombie glass and add more crushed ice to fill. Garnish with a sprig of mint.
Jeff "Beachbum" Berry deserves all of the credit for figuring out this secret recipe. That's another story that was covered by the New York Times a few years ago and you can read all about it here. The biggest problem you might encounter is the Lemon Hart 151 rum. Lemon Hart is a potent rum from Guyana that has an incredibly rich and unique flavor—even at 151 proof. You could substitute Hamilton 151 Demerera, but if you cannot find either of these, it's best to shift gears and try the easier version of this recipe (as adapted by Jeff Berry). We featured it in an earlier post.
If you do find Lemon Hart or Hamilton Demerara, consider yourself resourceful and lucky. Now all you have to do is add two other types of rum (yes, it's a bit over the top with rum, this one), and get to work making some cinnamon syrup (easy), grenadine (still relatively easy if you can find orange blossom water) and some falernum (not difficult, but come on already!). Ok, you can buy John D Taylor's Velvet Falernum these days, but the homemade stuff is better. Don't forget to grab some pastis (Pernod, Herbsaint) or do what we do and just use absinthe.
If making the Zombie doesn't kill you, drinking more than one certainly could. Fair warning: we only ever let guests drink one of these when we are making them. They are strong, flavorful, and delicious, but if you aren't in the mood for all of the extra work, just head over to Hale Pale or some other authentic Tiki bar in your town and have them make one for you so you know what all of the fuss is about (find out if they are doing it correctly first).
There are other options besides the Zombie for Halloween names. We love a good Corpse Reviver No. 2. This gin cocktail is real, it's a classic found in many old cocktail books, and yes, it's one of several different "Reviver" recipes (the good one). Originally meant to be a morning-after hangover cure, we like the lemon bite any time of the day. Another fun gin and citrus cocktail is called Satan's Whiskers. It can be made two different ways (whiskers "straight" or "curled" as they say). This one has a strong orange flavor.
If you were going to make the Dark and Stormy mentioned above, you might try your hand at Trader Vic's El Diablo. It has a similar formula with ginger and citrus, but uses tequila for the base with a float of cassis.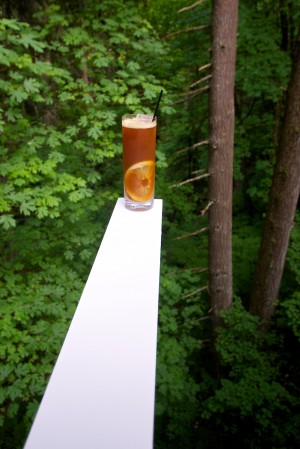 If you like the bitter spectrum of flavors, check out the Averna-based drink we whipped up called the Scottie Ferguson named after Jimmy Stewart's character in Vertigo. This is just the ticket if you are planning a Hitchcock marathon or watching classic horror films. We would also suggest trying the Fangs Out cocktail, a recipe we deciphered from the Bradstreet Crafthouse in Minneapolis, MN. It's no longer on the menu there, but we love it because it is filled with all things bitter and herbal. The aptly named Curfew cocktail from Secret Society is also filled with bitter flavors—just don't try one after midnight.
Warm Drinks
Speaking of curfew, If you plan to chaperone tricks-or-treats, a warm drink upon your safe return might be in order. We suggest either an Irish Coffee or a delicious Hot Buttered Rum. Both are simple to execute with short ingredient lists.
We had fun collecting all of these ideas from past posts. Whatever you choose to make, have a safe and fun Halloween!