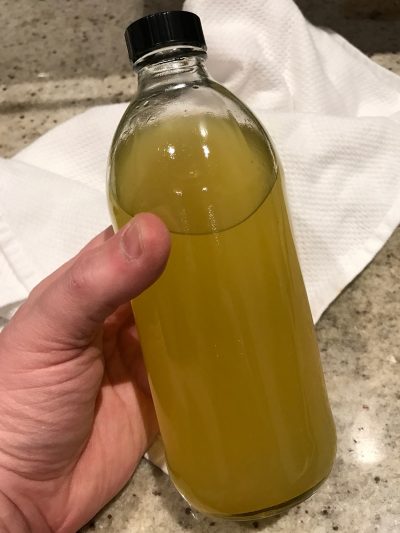 The most important ingredient in a Gimlet cocktail is the sweetened, preserved lime juice, or lime cordial. You can buy Rose's, but it is not hard to make your own and you will know what is in your version and have the pleasure of using and sharing an ingredient you made yourself.
Start with a dozen limes. Thoroughly wash them to remove any pesticides and wax residue. Remove the flavorful peel using a microplane zester and set the zest aside. Cut the limes and juice them. Strain all of the pulp out and reserve just the liquid. Measure this juice and combine it with an equal volume of sugar in a sauce pan over medium heat, stirring until the sugar dissolves. Remove from heat, add the zest you saved earlier and allow this to soak and cool for 20 minutes or an hour. This will draw flavorful oils from the zest and darken the liquid. Finally, strain and bottle. Keep refrigerated for weeks or months.
It's that easy, and because this recipe is self-referencing for volume, it can be divided based on the number of limes you have. You may want to try a smaller amount to start out. In any case, making this yourself is so simple that there is no reason to buy a commercial product filled with artificial ingredients and corn syrup.